Today in the official newspaper of the Cabinet of Ministers of Ukraine
"Government Courier"
there was a note that testifies, to put it mildly, the strangeness of the Ukrainian justice system. The note states that the Pavlograd city district court of the Dnipropetrovsk region at a court hearing, which will be held on April 5, called Mikhail Sergeyevich Tolstoy.
It turns out that we are talking about the commander of the "Somalia" battalion of the DPR army, Michael (Givi) Tolstoy, who was killed on February of last year by an explosion in his office. The investigation into the death of Mikhail Tolstoy in the DPR continues. The final verdict on the tragic incident in Makeyevka yet.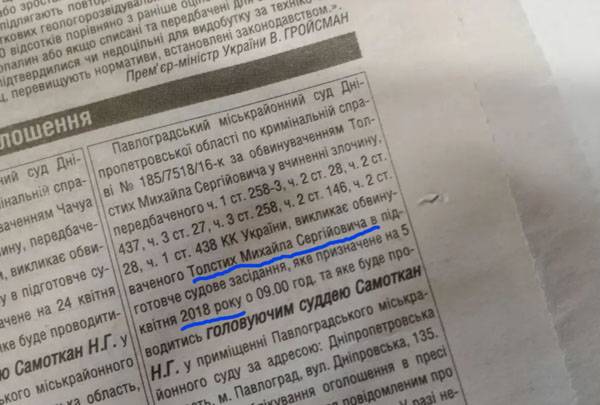 The death of the Givi commander did not prevent Pavlodar judge Natalya Samotkan from publishing a summons in his name, in which it was announced that Mikhail Tolstoy was accused of committing crimes, including "crimes of a terrorist nature." Apparently, the Maidan system of "justice" does not even provide for such elementary concepts as the closure of a criminal case in connection with the death of the main person involved. Or to the attention of Ms. Samotkan still not brought information about the death of Mikhail Tolstoy in Makeyevka in February last year?