135 thousands of civilians were evacuated from the Eastern Guta war zones. The pro-Turkish forces announced the imminent storming of Manbij. Reports about it
FAN
with reference to Syrian sources.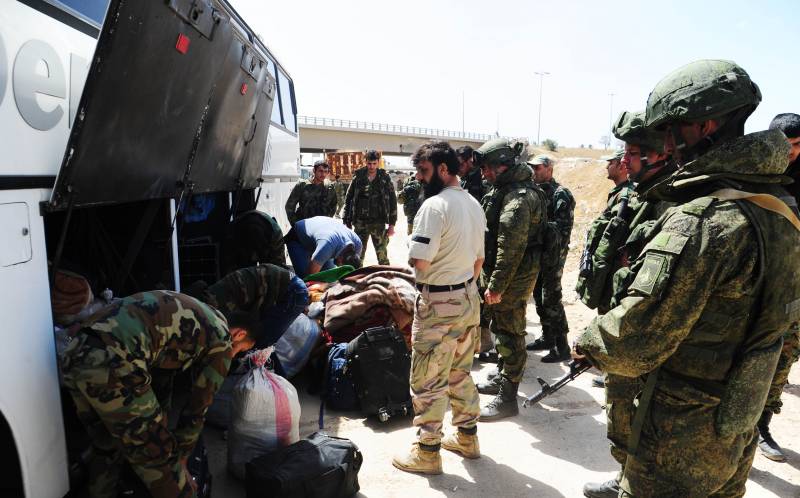 Inspection of baggage fighters who agreed to leave the Eastern Guta.
During the day, the Syrian Arab Army (CAA) conducted artillery shelling of strongholds of irreconcilable armed opposition near the city of Duma (Damascus province). According to the SAR Army Command, the storming of the city will begin after other militants who agreed to leave Eastern Guta will be evacuated from the region. In the already liberated areas of the south-eastern part of Damascus, work is underway to clear the debris and eliminate the fortifications of militants. The CAA engineering brigades work in Arbin, Ain Tarme, Zamalka and Jobar. Since the beginning of the humanitarian corridors, the militant-occupied areas of Eastern Guta have left 135 thousands of civilians.
The Ankara-controlled Syrian Free Army (SSA) has blocked roads leading to Manbiju (Aleppo Province). The militants said that a military operation against the Syrian Democratic Forces (SDF), based in the city, will begin in the next three days. Sources report that several thousand civilians from Afrin and the surrounding settlements left their homes and left for the city of Nubol, located in the north-west of the region.
In connection with the activization of the militants of the IG (the group was banned in the Russian Federation), government forces based near Abu Kemal established a temporary curfew in the city. At the same time, the allies of the CAA began to explore the neighborhood of Meyadin, but the operation against the IG had to be suspended due to a sand storm.
In the south of the province of Idlib, the operation of the Russian Aerospace Forces and the Syrian army against the terrorists "Dzhebhat an-Nusra" (banned in the Russian Federation) continued. UAR government forces fired on Islamist strongholds in the vicinity of Khan Sheikhoun. In addition, the CAA began shelling the positions of terrorists in the south-east of the region.