In the Indian edition
Times of India
An article has been published which speaks of suspicions expressed by biological laboratory specialists regarding "potential" food problems. The material, citing DRDO (Organization of Defense Research and Development), states that the Indian agricultural industry could have undergone a "bioterror" act. As an example, a sharp deterioration in the phytosanitary situation in the country in relation to potatoes is given.
It has been announced that experts at West Bengal State University (WBSU) have already discovered 19 new strains that can kill the entire crop in the region in just two days. The disease is the most popular agricultural crop in India associated with microorganisms that can kill the yields of any solanaceous food forms. Infected potatoes literally dry out and rot inside.
Bengal is one of the main suppliers of potatoes to the domestic market of India - about a quarter of all volumes. In this connection, DRDO is worrying about the forecasts for a sharp decline in crop volumes in this part of India caused by numerous strains. It is noted that agricultural areas could be infected and deliberately, and the infection was carried out in stages in the course of time by mutating microorganisms.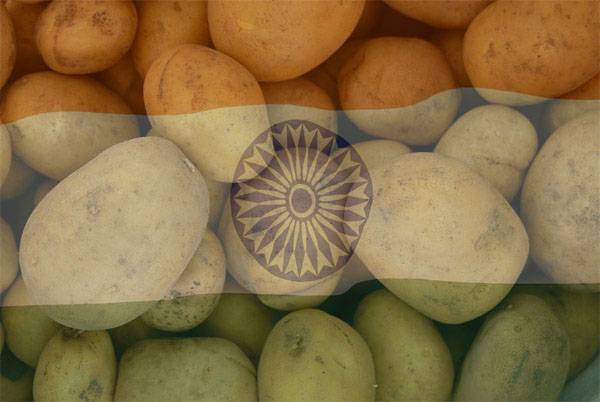 Employees of WBSU in an interview with Indian journalists report that they can not reveal all the established details, as they are working together with the competent authorities.
From the representative of the university:
All I can tell you is that they view these strains and their deadly potential as a possible attack - biological terror - and that such strains can be deliberately introduced into Bengal and other parts of eastern India, the country's potato granary, as an enemy. This may be part of his terrorist tactics. It is necessary to take measures to ensure biosafety.
It is noteworthy that the samples of infected crops were studied in the UK. From there came a statement about the threat to food security in India.