Today, the Ministry of Emergency Situations of the Russian Federation sent the 75 vehicle convoy with humanitarian supplies to Donetsk and Luhansk people's republics, reports
RIA News
.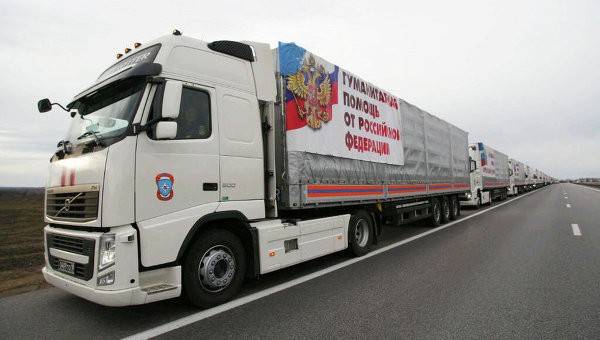 According to the representative of the Southern Regional Emergency Center, the column formed in the village of Kovalevka (Rostov Region) will deliver to the residents of Donbass "more than 400 tons of humanitarian aid - children's food packages, educational literature and basic necessities."
Cars with humanitarian aid in 4.00 Moscow time were moved from the Don rescue center EMERCOM of Russia in the direction of the Russian-Ukrainian border,
clarified the interlocutor of the agency.
As before, the column will be divided into two along the way - one of them will go to the checkpoint "Donetsk", the other - to "Matveyev Kurgan", where they will undergo customs inspection.
Experienced rescue drivers who have performed dozens of humanitarian operations around the world during their work are driving a car
The representative of the Ministry of Emergency Situations added.
Recall that the previous convoy with humanitarian aid arrived in the Donbass in the second half of February. Another convoy will be recovered in April. From 2014, Russian cars brought more than 74 tons of relief supplies to residents of the self-proclaimed republics.