Information appeared on where the Russian fishing vessel "Nord" is located, as well as on the status of the crew. Recall that the fishing vessel was detained in the neutral waters of the Azov Sea by Ukrainian border guards. The captain of the fishing vessel was announced that he and the whole team had violated Ukrainian legislation by the fact that they called at the ports of Crimea without agreement with Kiev. At the same time, "Nord" is assigned to one of the Kerch fish collective farms.
The captain of the vessel, Vladimir Gorbenko, reported that the Nord was escorted to Berdyansk, and the representatives of the crew hoped that "they would not be forgotten."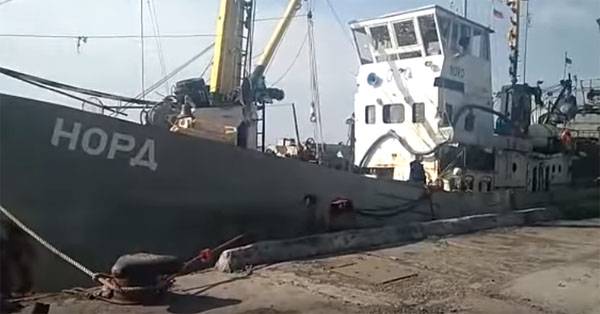 RIA News
quoted by Vladimir Gorbenko:
At the moment, our vessel with a crew of ten people is under arrest in the port of Berdyansk near the pier. I want to say hello to relatives, to say that they do not worry, everyone here is alive and healthy. We, as citizens of the Russian Federation, hope and believe that they will not forget about us and help us return home to our families.
Crew members are not allowed to leave the ship. At the same time, the supply of food and drinking water on the "Nord" remained a maximum of 4 days. It should be noted that on the ship after a few days the refrigeration units will be turned off, cooling the catch with a total weight of about 5,7 tons. The Ukrainian side has not yet given permission to connect the vessel to the power grid of Berdyansk.