A court meeting was held, during which a decision was taken on the choice of a preventive measure against the security guard of the Zimnyaya Chery shopping center, Sergey Antyushin. This is the same person who was initially accused of having "turned off the fire alarm". While in the courtroom, the PSC officer answered the questions asked by the journalists.
According to Antyushin, he reported in reports to the management that the fire alert button was faulty. However, measures were not taken during all the time he worked in the shopping and entertainment center.
The security guard of the Winter Cherry shopping and entertainment center confirmed the initial information that the flames had begun to spread from the children's game segment on the 4 floor.
RT
quotes Antyushin:
There was a drawdown. In the children's center on the fourth floor. The fire and security system began to work randomly everywhere on the fourth floor. I saw on the monitor that there was smoke in the corridor of the cinema. Naturally, I immediately called 112 from a business phone, said that we had a fire in a shopping center. I called the guard who was on the 1 floor.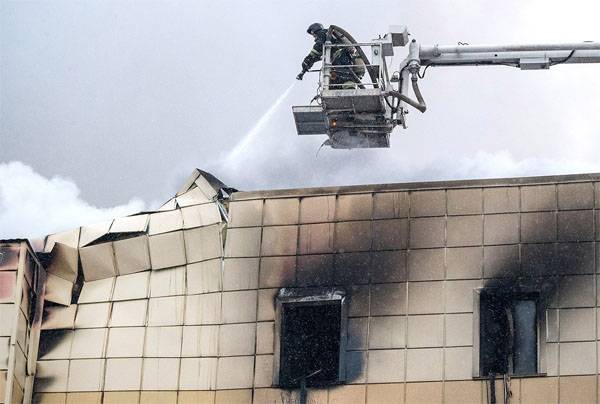 Journalists asked the PSC employee if there were any cases when the fire alarm did not work for some time for technical reasons.
Antyushin:
Of course, there have been. Constantly something was, periodically something broke. All three years while I was working there.
The guard noted that he made notes about the identified problems in the log of reception and delivery of duty.
And this magazine, apparently, destroyed by fire.
Antyushin said that he considers the malfunctioning alert system to be the main cause of the entire tragedy in the Winter Cherry shopping center.
From his statement:
Another 19 of March, it worked for several times without any reason, but I didn't turn it off, as someone says.
It should be noted that President Vladimir Putin demanded that the RF IC take into account all possible versions of the cause of the fire.
Several hours in the media referring to the Emergencies Ministry reported that the main version in the ministry is the arson at the location of the children's "dry" pool.