On Wednesday, a bill was registered on the official website of the Ukrainian Rada, proposing to officially hang out the red and black flag of the Organization of Ukrainian Nationalists - Ukrainian Insurgent Army (OUN-UPA, banned in the Russian Federation) on the buildings of state authorities.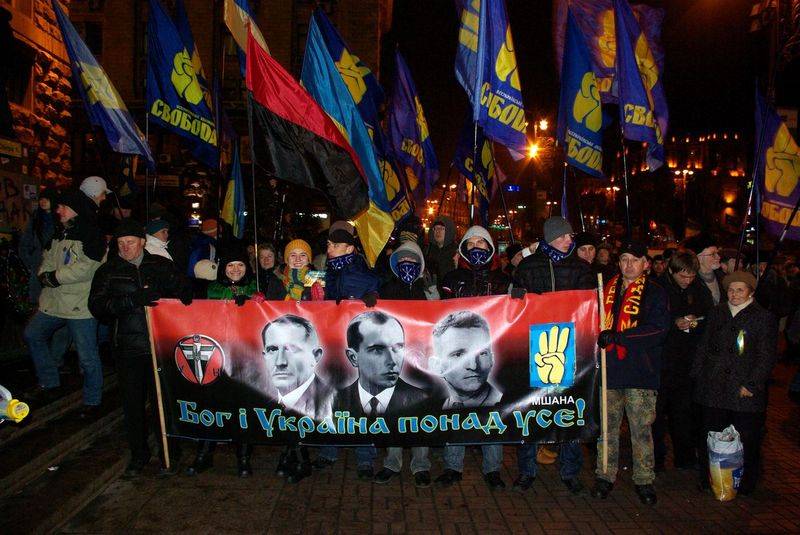 He was one of the symbols of the revolution of dignity. And therefore we propose to approve its application at the state level. This has already been done by a number of local, in particular, regional councils throughout Ukraine. It is the turn of the highest legislative body of the state
- said the deputy from the nationalist party "Freedom" Andrei Ilyenko.
The draft law provides for the placement of the red-black flag of Ukrainian nationalists on the buildings of the state bodies of Ukraine on public holidays. In addition, local councils may approve a list of additional days on which the red and black flag is set or raised.
President Petro Poroshenko in May 2015 of the year gave the OUN-UPA * the status of "fighters for independence" of Ukraine, and its participants - the right to social security. Moscow condemned this decision, noting that "Ukraine is the country where neo-Nazis moved from words to deeds and killed thousands of civilians" and that "such actions should be given an adequate assessment at the international level," RIA reports.
News
OUN-UPA * - Extremist organization banned in Russia.