On the Telegram channel
MASH
published material, which states that the Emergency Situations Ministry employees have decided on the main version of the cause of the fire in the Kemerovo shopping and entertainment center "Winter Cherry". If you believe this message, then the main version of the MOE sees arson.
It is stated that the fire laboratory experts found out that the fire began to spread from the children's "dry" pool, which was located in the far part of the gaming sector. The flames that engulfed the foam elements quickly spread to the grid for "rock climbing" and to the elements of the casing of the playing hall. The plating started to fall down under the influence of fire, and at the same time the fire spread to the electrical wiring, which led to a power outage.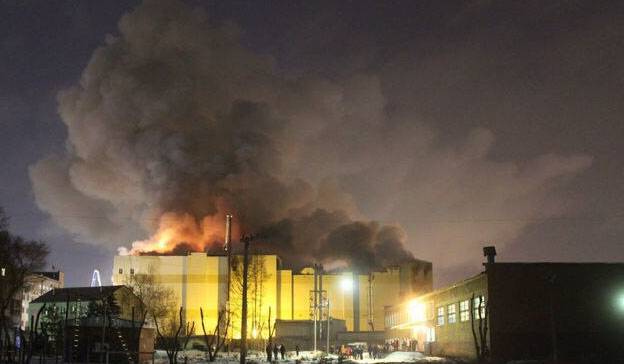 From the material:
Above the ceiling in the children's playroom, ropes were strung, which, burning out, began to fall in different directions and set fire to all new sections of the floor and walls. The soft floor, assembled from combustible materials, took up instantly, allowing the flame to scatter even further. Properly working ventilation completed the tragedy, starting to disperse smoke and flames in neighboring rooms.
Deputy Head of Emergency Situations Ministry Vladlen Aksyonov said that the bodies of all those killed in the mall were found. This is the 64 person. Of these, 27 is already identified. Laboratory tests will be used to identify the remaining bodies. It is stated that at the moment there are no additional appeals about missing persons in the "Winter Cherry" mall.