Pilots of Kamchatka Marine Base
aviation
took part in the training of air defense forces to repel an attack of airborne assets of a conditional enemy in the Arctic zone, reports
press office
Ministry of Defense of the Russian Federation.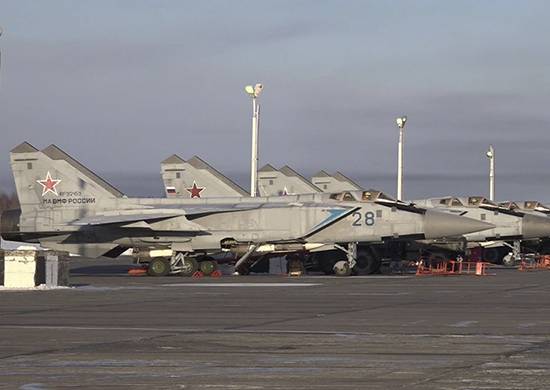 It is reported that "a group of anti-submarine aircraft IL-38H, simulating a conditional enemy bombers, acted as the enemy, whose main task was to fly to the Chukchi Sea region and imitate a bomb attack on objects of the Chukotka Autonomous Region."
To localize the threat of an air attack from an airfield in Kamchatka, a pair of high-altitude interceptor MiG-31 fighters were raised in alarm. They had to destroy the planes of the conditional enemy at a given turn before they carried out the bombing,
says release.
In carrying out this task, "Kamchatka fighter pilots for the first time carried out a nonstop flight over 4000 kilometers to the Arctic region with two refueling in the air from the Il-78 tanker aircraft," the military department said.
In a given area, the Pacific Fleet interceptors discovered targets, classified them and conducted electronic launches of long-range air-to-air missiles at them.
"All the" enemy "planes were successfully destroyed at the maximum missile launch distance," the press service added.
In addition, the targeting of MiG-31 interceptors to the target for the first time passed under the control of radar stations and aviation guidance points of the Eastern District.