The Russian Aerospace Forces attacked terrorists in Deir-ez-Zor. Manbij residents demand that US forces leave the city. Reports about it
FAN
with reference to Syrian sources.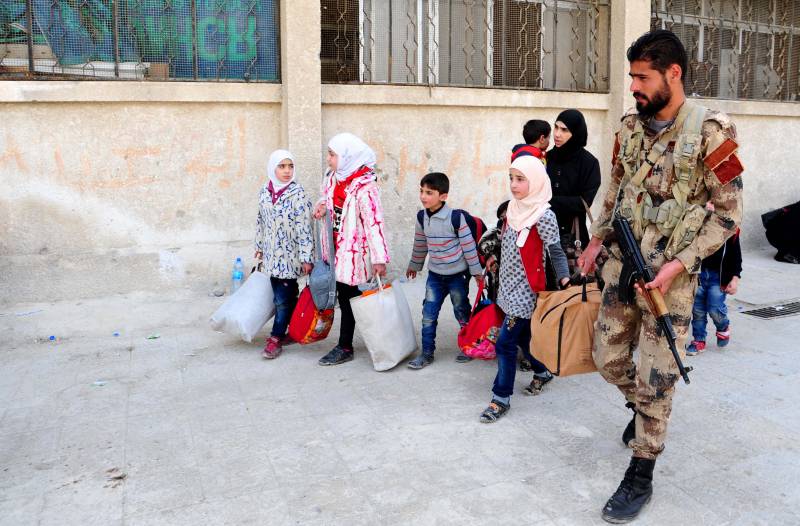 In the past 24 hours, the evacuation of militants from Eastern Guta to Idlib province continued. 28 people - civilians and soldiers of the Syrian army were released from the prisons of the radicals. In the area of ​​the Duma settlement, clashes between Syrian troops and opposition units that refused to lay
weapon
. During the shootings, one of the high-ranking radical leaders was neutralized.
Turkish troops, together with the detachments of the "consolidated army" continued to advance in the north of Aleppo. By the evening it became known that the settlements of Tel Rifat, Deir Jamal, Kafranya, Sheikh Hilal and Sheikh Issa, as well as the military airfield Mennah came under the control of the Turkish armed forces. In the afternoon, meetings of civilians began in Manbidzh. Residents opposed the military presence of US forces in the city.
At the beginning of the day, there were reports that detachments of the "moderate" opposition stationed in the territory of the Rastan boiler (Homs province) showed a desire to conclude an armistice with the Syrian army. Representatives of the Syrian authorities and the Russian Center for Reconciliation of the warring parties informed the militants about the following conditions: confiscation of weapons and equipment, settlement of legal status, installation of Syrian flags in the specified settlements, as well as the transfer of the military police of the Russian Federation and Syria to all positions on the Hama - Homs route.
Russian
aviation
intensified attacks on the demarcation line between the SAR and the pro-American Democratic Army of Syria (SDF) in the area of ​​Meyadin and Abu Kemal in the province of Deir ez-Zor. The Russian Aerospace Forces conducted sorties in the deployment zones of IS fighters (the group is prohibited in the Russian Federation), hidden in desert areas. In the second half, the pro-government National Defense Forces (NDF) launched a counter-terrorist operation near the T-2 station in the south-west of the region.