Another correspondence exchange of courtesies took place on Tuesday between American and Russian diplomats: the State Department compared Russia to a sea monster, and the Russian Embassy remembered that fascist propaganda used similar epithets.
RIA News
.
During the briefing, Associated Press journalist Matt Lee asked State Department spokesman Heather Nauert "whether the upcoming US election in November would be safer after the Russian diplomats were expelled by 60."
We cannot say that as a result, elections in the United States will be safe. Russia has long arms, Russia has many tentacles. We believe that they will continue to show interest in our elections, as well as in the elections of many other countries,
replied Nauert.
"Hands and tentacles?" Asked a surprised journalist.
The representative of the State Department confirmed her words, explaining:
This is a monster from the depths of the sea.
Later, a quote from the words of Nauert appeared on Twitter at the Russian embassy, ​​to which an anti-Bolshevik poster from the Nazi Germany 1930-s was attached - a spider in a Red Army helmet wearing the globe and the inscriptions "Bolshevism" and "Great Anti-Bolshevik Show".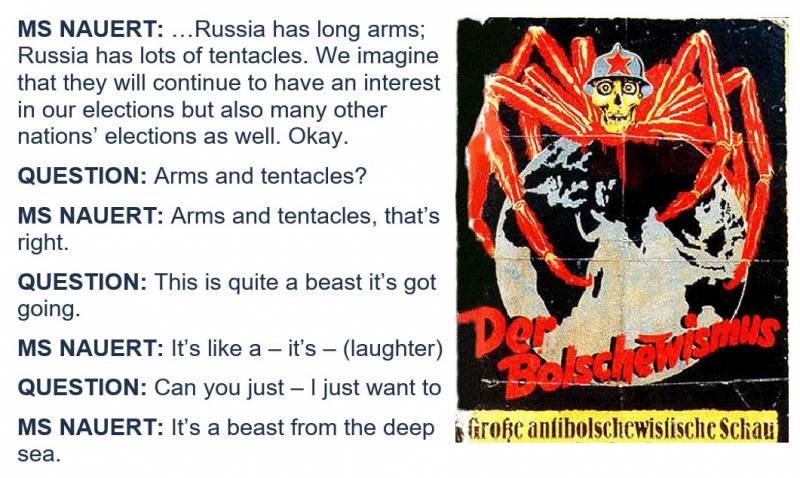 From the diplomats added:
Today we witnessed the "Big Anti-Bolshevik Show" performed by the official representative of the State Department.
Earlier, Washington decided to send 60 Russian diplomats in connection with the poisoning in Britain of the former GRU officer Sergei Skripal.