Militants have lost about 90 percent of their territories in Eastern Gute. The Kurds provoked a conflict with the local tribes in Rakka. Reports about it
FAN
with reference to Syrian sources.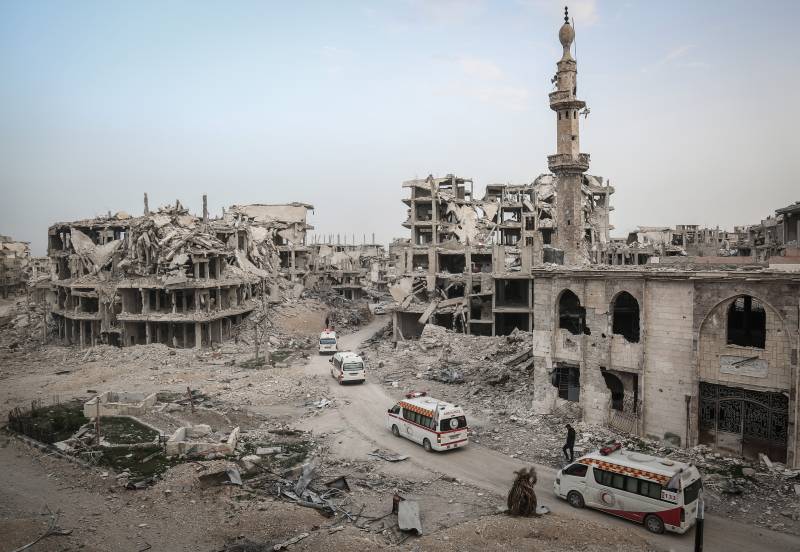 After unsuccessful negotiations with militants of the opposition formation "Jaish Al-Islam", government forces resumed hostilities in the area of ​​the Duma settlement. Artillery CAA opened fire on the fortified radicals. ATS soldiers began clearing Ain-Tarma and Khazza - a network of underground passages was discovered, as well as warehouses with
weapons
and ammunition. Among other things, the building went under the control of the CAA, which was used by the Islamists as a laboratory for the manufacture of explosives. Thus, the forces of the Syrian Arab Army (CAA) have already liberated about 90 percent of the territories of the oasis. The SAA Tigers special unit will soon head south to Damascus in order to clear out the Hajar Al-Aswad, At-Tadamoun, Al-Kadam, and Al-Yarmuk refugee camps.
Humanitarian aid from the Turkish Red Crescent was delivered to Afrin. Food and medicine kits were distributed to the residents of the village of Helthangarbi. At the same time, Ankara declared its readiness to launch an offensive in the area of ​​the city of Manbij, despite the fact that the US military is in the area.
Syrian Democratic Forces (SDF), supported by the United States in the province of Deir-ez-Zor, began transporting oil refining equipment from the Al-Omar oil field to Hasaka. Thus, the Kurds intend to protect resources from possible attacks of terrorists. Earlier, a significant part of the Kurdish detachments headed for Afrin, stopping the sweeping of the province's territories from the "sleeping cells".
An armed conflict broke out between the groups of local Al-Bukhamiss tribes and Kurdish units in the territory of Raqqi. The local population opposed the National Self-Defense Detachments (YPG), since the peaceful citizens and the head of the Al-Bukhamiss tribe were arrested by the Kurdish police of Asayish. It is known that the clashes occurred near the village of Al-Mansur.
In the afternoon, it became known that "Dzhebhat al-Nusra" (banned in the Russian Federation) resumed battles with the Syrian Free Army (FSA) in the province of Idlib. Opposition media reported that one of the leaders of the SSA was shot dead by snipers from a terrorist coalition near the city of Khan Sheikhun.