The Russian president arrived this morning at the site of the tragedy in the city of Kemerovo. Vladimir Putin laid flowers at the facade of the Kemerovo shopping and entertainment complex Winter Cherry, where a terrible fire took 64 human lives. Among the dead are children.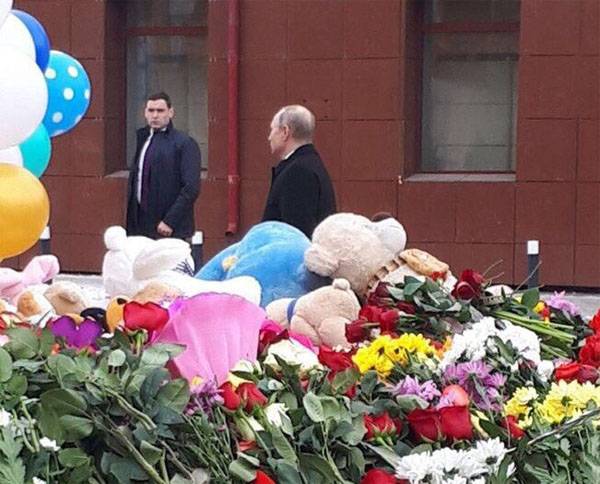 A spontaneous memorial was formed at the facade of the Winter Cherry shopping center, to which townspeople and city guests bring flowers, wreaths, icon lamps, children's toys, photos of relatives and friends who died in this nightmarish tragedy. A really pressing tablet "Children, forgive us" is crowned with a real mountain of fresh flowers, which has been formed at this moment in a completely burnt-out shopping center.
After laying a bouquet of flowers in memory of the victims, the president, along with the permanent representative of the head of state in the Siberian Federal District, Sergey Menyaylo examined the facade of the ill-fated building, where the complex of exploration continues.
Recall that during a fire, 64 people died. Currently 13 affected are in clinics. Most of them were diagnosed with carbon monoxide poisoning. In terms of the number of victims, the fire in "Winter Cherry" has become one of the largest
stories
Russia.
Meanwhile, Kemerovo residents gather for a spontaneous rally in front of the Kemerovo administration building. The townspeople demanded the resignation of the mayor, who went out to speak with the assembled residents of the city.