The Russian ambassador to the United States of America, Anatoly Antonov, commented on another wave of anti-Russian hysteria with the mass expulsion of Russian diplomats. The page of the diplomatic mission contains a statement that Russia will give an answer to actions that violate the foundations of international law, but at the same time is not going to let it provoke itself to an emotional breakdown.
Anatoly Antonov, journalists asked how he regards the next US anti-Russian demarche.
The answer of the Russian ambassador is published in
Facebook
(on the page of the Russian embassy):
The Washington action shows very alarming symptoms. Words of readiness for interaction diverged from deeds. Contrary to assurances, the line continued the previous administration. A blow to official representatives and representative offices of Russia - actions aimed at confrontation. There is no excuse for them.

The people responsible for the few areas in which mutually beneficial cooperation survives - space, science and culture, trade, clarifying the fate of prisoners and missing persons are sent out. Restoring relationships and finding points of contact are thrown back.

The scale of the damage and the informational preparation and support that preceded it indicate that it was most likely planned in advance, it was simply postponed - in anticipation of a suitable occasion. The absence of any facts confirming the accusations of Washington and London against us cannot help creating suspicions of close coordination and joint planning of the incident.
According to Antonov, the US administration openly linked the closure of the Consulate General with its "proximity to the submarine base and the Boeing facilities.
Antonov:
So what is the connection with the case of the poisoned British agent Skrypal and his daughter?

Internal problems from which Washington and London are trying to divert attention to the "Russian threat" will not disappear. Our opponents do not like a strong and powerful Russia, whose capabilities have recently been demonstrated.

On the day of the tragedy in Kemerovo, we saw emotional deafness, indifference and heartlessness from official Washington. We just decided to make it more painful. Well, you can rejoice. And this, moreover, when ordinary Americans - together with us in our grief, send us condolences. Thank you, friends. Truth will emerge. To provoke an emotional breakdown, we will not give ourselves. The answer will be.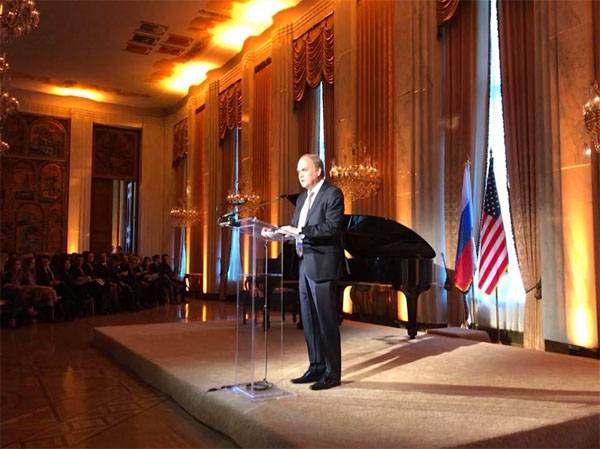 Recall that on the eve of the United States announced the expulsion of Russian diplomats 60, including 12 Russian representatives to the UN. Diplomats must leave the United States within a week.