13 February 1945 in the village of Rutchenkovo ​​(now one of the districts of the city of Donetsk, Ukraine) in the family of engineer Timofey Grigorievich Fomenko and teacher Valentina Polikarpovny Markova was born a boy, who was named Anatoly. From early childhood, Anatoly showed remarkable abilities in the field of mathematics, was fond of literature, drawing, music, graduated from school with a gold medal, entered the Faculty of Mathematics and Mechanics of Moscow State University, graduated from 1967 successfully, and with 1969 worked at the same department faculty. Already in 1970, Anatoly successfully defended his PhD thesis, and in 1972, his doctoral thesis. Brilliant scientific career. Soon he became a professor, head of the department, a corresponding member, and then a full member of the RAS in the department of mathematics. The works of Anatoly, now Anatoly Timofeevich, are translated into many languages, published in dozens of countries.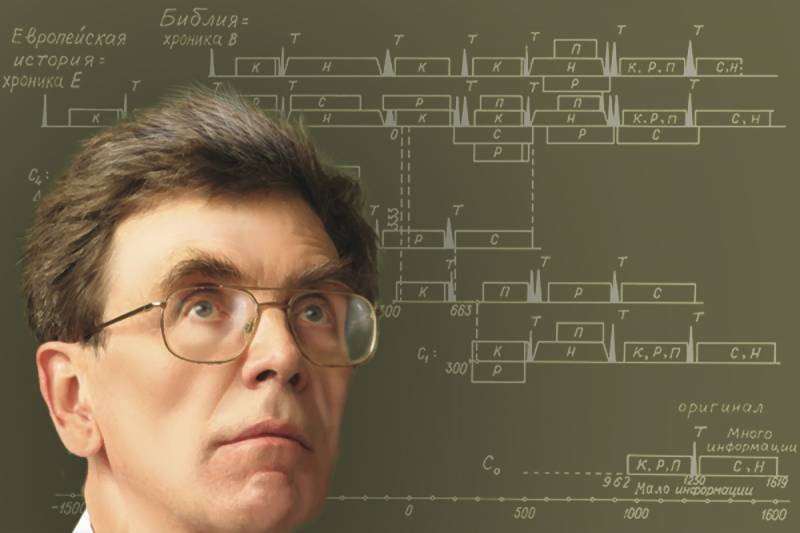 It would seem the honest path of a talented scientist. However, Anatoly Timofeevich Fomenko is now known to us not as a gifted mathematician, but as the actual founder and main engine of the pseudoscientific historical movement, called the "New Chronology".
Honestly, when I first encountered the consequences of popularizing the "New Chronology" among the broad masses of the reading population, in the person of some of my acquaintances, in general, people are not stupid, and, as a rule, alien
stories
which for some reason unknown to me was carried away by this movement (it was the year in 2005), I did not experience anything but confusion and light merriment. How is it: to take and so easily delete ten centuries of world history? Stupid, funny and nothing more. The historical knowledge base I had at that time was enough for me to mark New Chronology for myself as utter nonsense and treat it as a fun harmless play, meant to amuse a certain category of the population. Something like the story in the presentation of "Satyricon" or the works of Mikhail Zadornov, who always seemed to me quite a capable humorist.
Time passed, I more and more often noticed books on "New chronology" on the shelves of bookstores, sometimes I even took them in my hands, looked at the table of contents and ... put them in place, looking around: suddenly someone saw that I was holding IT in my hands, I was ashamed. After a while, I stopped approaching these shelves, already in advance, determining from a distance what exactly was on them. Okay, no one forced me to buy these books, there were no supporters of this very chronology among the closest entourage, so it didn't bother me that much.
The beginning to bother another. On TV, flipping through channels between sports and
the news
, I increasingly began to get on programs made on the model of documentaries, even a little sci-fi, but in terms of content they represented some kind of nonsense about Atlantis, about Hyperborea, about the "white gods" and the "Aryan trace" in the history of mankind. The facts, on which the creators of these films relied, were either known to me earlier and interpreted by the authors of the films to an extreme distortion, or were not known to me at all. Attempts to verify such facts in one hundred percent of cases revealed either gross falsification or conscious manipulation.
TV is mentally aggressive, it's as easy to get away from as bookshelves, especially as it intrudes directly into your house. You can, of course, throw him out, but I considered such an act akin to surrender and from that moment I began to evaluate this household item not as an agent of enemy influence, but as my own intelligence officer, broadcasting information from my enemy's future plans to me about the regular plans of my eternal opponents - stupidity and ignorance. Life has become easier. The caustic comments that I supplied with some programs helped my family, and especially children, to better understand many things, in any case, he instilled in them critical thinking about the information that can be gathered from numerous sources, be it radio, television or The Internet.
Yes, on the Internet a separate conversation. The next attack came from there. "Youtube", for example, was filled with pseudo-scientific content; there were much more of them than truly scientific ones, especially in history. It was from the Internet that I learned that there was no Mongol invasion of Russia, and we destroyed one-third of the population and almost all the cities, which, of course, we should be terribly proud that it was we, the Russians, who were the descendants of the Aryans, the ancient rulers. not Pangea itself, which, thanks to the worldwide conspiracy of historians, archeologists, geneticists, astronomers, and so forth, and so on, has been misrepresented beyond recognition with one goal - to bring down the Russian man, the only basis of order and progress on the planet, to the level of an unanswered dull woman votnogo to please ... there options: world Jewry, the Anglo-Saxons, Reptilians (a matter of taste). It was from the Internet that I was attacked by the information about the Great Tartary, the ancient state of the Rus of the "boreal world", the great empire of our ancestors, who owned all the inhabited lands, except, perhaps, Australia. There must be a place on earth where the Russians did not reach, well, that's why terrible and primitive savages lived there, nobody showed progress, did not teach civilization ...
And so, according to all the rules of dialectics, quantity began to turn into quality. What began with the works of Anatoly Timofeevich Fomenko (although, of course, not from him, but much earlier, but for me personally, from him) and Mikhail Zadornov, continues now, steadily strengthening his already considerable pressure, but for me these are no longer isolated and unrelated facts.
Perhaps we are witnessing (and victims) a carefully planned set of measures to disorient and disunite the peoples of our multinational country, the ultimate goal of which is to destabilize the domestic political situation in the Russian Federation, up to its complete disintegration into numerous and weak national-territorial entities.
Attempts to pursue a policy of narrow nationalism are gradually being carried out now in many subjects of the Russian Federation, somewhere more, somewhere less aggressively, the state tries to stop them, but very gently, so as to avoid open confrontation on national soil. While it is possible. Attempts by national suburbs to "identify themselves" and their stopping by the central authorities is a normal working process in any multinational state, there is nothing terrible or unusual in this. But imagine what will happen if a titular nation tries to "self-identify" in a multinational state. With regard to the Russian Federation, the question will be: what will happen if the Russian people, the Russian people are affected by the bacillus of narrow-minded nationalism? I am afraid, because on such a fertile soil, parochial nationalism will immediately blossom in magnificent color, become unstoppable and there will be a lot of blood, grief, tears and ... there will be no Russia. Rather, it will be, but at best, within the borders of the state of Ivan III.
And all the more it becomes scary when you see that all these pseudo-historical theories (Fomenko's New Chronology, Klesov's DNA Genealogy, other various theories developed by the authors thinner, like the late Yuri Petukhov and his followers), they all end up to this most primitive narrow-minded nationalism, they say, we Russians are the most-most, and all the rest are either just a lubricant of history or the personification of world evil. Yes, precisely so, from whatever scientific or pseudo-scientific positions the authors of these concepts start, no matter how convincingly and "scientifically" they argue their thesis, which side they would try to circumvent what they contemptuously call "traditional history", they inevitably they come to the point where the young Adolf Schicklgruber began at one time: to the thesis of the absolute superiority of one (in this case, however, Russian, not German) nation over all others. And if they do not come to this themselves, either by weakness of character or from a great mind, they try to stop halfway, then do not hesitate, there will be those who will bring their teaching to a logical conclusion and force them to sign at the end of what was said not by them.
As Schicklgruber's political career ended, everyone knows, but I want to remind the authors of recent historical hypotheses that even more than seventy million people have disappeared with him to where they don't return.
The simultaneous rapid development and popularization among the broad masses of the reading population of the ideas of Fomenko, Klesov and other, less authoritative authors is certainly not a coincidence. Whether it is due to objective reasons for the development of our society or triggered from the outside by our geopolitical "partners", it is difficult to say, I admit both that and the other, both together and separately. I am absolutely sure of one thing: the further development of these ideas will not lead us to anything good. I would like to believe that everything will calm down and resolve itself, but ... Ukraine does not give rest. Perhaps we will be quite capable of catching up on this slippery path, and even then the Crimea and the Donbas will not do - jerk so that it does not seem to anyone, even across the ocean.
Is it possible that the cleverest man, Anatoly Timofeevich Fomenko, does not understand what is led by him, of course, a witty and paradoxical, initially seemingly so harmless hypothesis? Does he really not see with whom he ended up in the same boat and where do they jointly lead this boat? In the eighth decade, money, probably, should not already have such significant value as in the fourth, fifth or sixth! Anatoly Timofeevich, maybe it's time to repent?