During the briefing, the head of the Ministry of Emergency Situations, Vladimir Puchkov, answered the question of whether a version of a terrorist act is considered among the causes of the tragedy in the Kemerovo Zimnyaya Cherny shopping center. According to the Emergency Situations Minister, all possible versions are considered, except for the version of the terrorist act. It is reported by the news agency
TASS
.
Also, Vladimir Puchkov held an operational meeting, being directly on the site of the largest recent fire (in terms of the number of victims).
Press office
The Ministry of Emergency Situations cites the statement of the head of the Ministry:
Among the rescuers, firefighters and other professionals working at the scene, there are no casualties. Unfortunately, as a result of the presence of multilayer overlappings, smoldering in the rubble, it has passed into the active phase. Thermo-points are being spilled, which were previously detected by firefighters.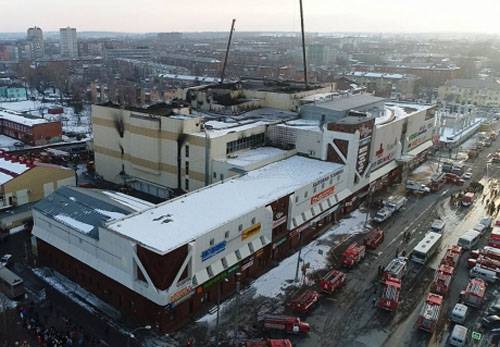 It was reported that the mentioned thermal points, the temperature in which reached 800 degrees Celsius, caused the renewal of fire in several areas of the shopping center. At the moment there is no open flame.
The ministry noted that now there is a monitoring of what remains of the Winter Cherry shopping center. The condition of the supporting structures is monitored from the air using unmanned aerial vehicles.
According to Vladimir Puchkov, there is a high probability of a complete collapse of the building due to the sagging of the floor decks.
Recall that the fire killed at least 64 people, including children. From 27 to 29 March, mourning has been declared in the Kemerovo Region.