There are new details of the horrible incident in the shopping center "Winter Cherry" of Kemerovo. A video has been published on YouTube by which one can judge the speed and intensity of the interior of the Kemerovo shopping center began to cover with acrid smoke already at the initial stage of the fire. The video was captured by a video surveillance camera, which was installed in the entertainment zone of the Winter Cherry shopping center.
64 is now known to be the victims. A few dozen are still missing. Some time ago, the Kuzbass Ministry of Emergency Situations Administration received reports that the fire in the dilapidated Winter Cherry was resumed again.
Five people a few hours ago were found alive in a mall.
Specialists of psychological support services work on the site of the raging nightmare drama and in organized special centers with relatives of those who died during the fire, trying, as far as possible, to help people who were killed with grief to cope with the terrible tragedy.
From the message
press service
Regional MES:
More than 60 psychologists EMERCOM of Russia and other operational services provide assistance and support to the relatives of the dead, injured and missing in the fire in the shopping center "Winter Cherry". Emergency psychological assistance was provided by more than in 70 cases by specialists from Kemerovo, Krasnoyarsk and Moscow. Psychologists work in a temporary accommodation center, which is located near the scene. There are relatives of the victims.
One of the relatives of the victims, barely holding back emotions, told the local media that his three children were in the cinema on the top floor of the shopping center during the fire. The eldest daughter called her father, saying that they could not get out of the cinema hall in smoke. From the first floor of the shopping center, he rushed to the rescue, but the whole space was already clouded with acrid smoke. The man could not help the children.
Many people were blocked in elevators, where timely assistance from the fire brigades did not arrive.
The authorities of the Kemerovo region declared a three-day mourning in memory of those killed in the fire at the Winter Cherry shopping and entertainment center. Mourning events will take place from 27 to 29 March.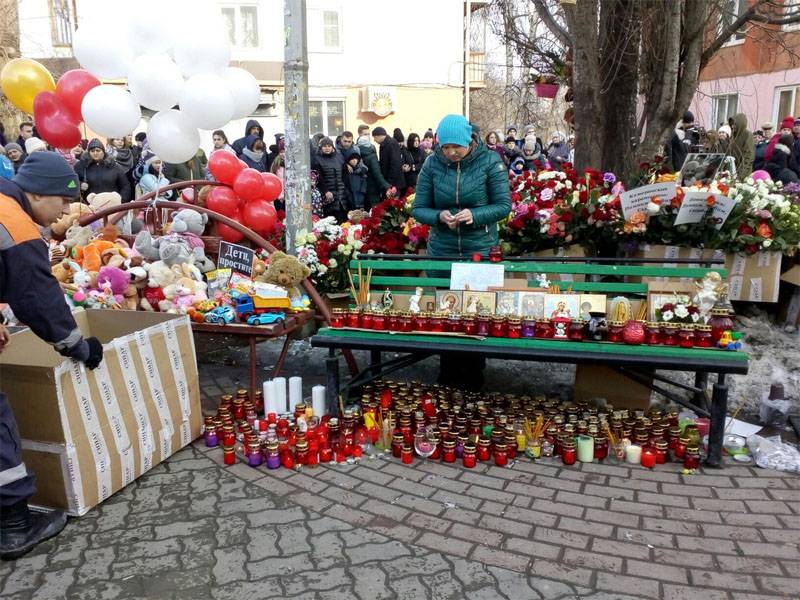 The tragedy in Kemerovo cannot leave anyone indifferent in Russia. Words of condolences to Kemerovo come from abroad.