Turkish armed forces begin operation against the SDF in Tel Rifat. several hundred more militants and their family members were evacuated from East Guta. Reports about it
FAN
with reference to Syrian sources.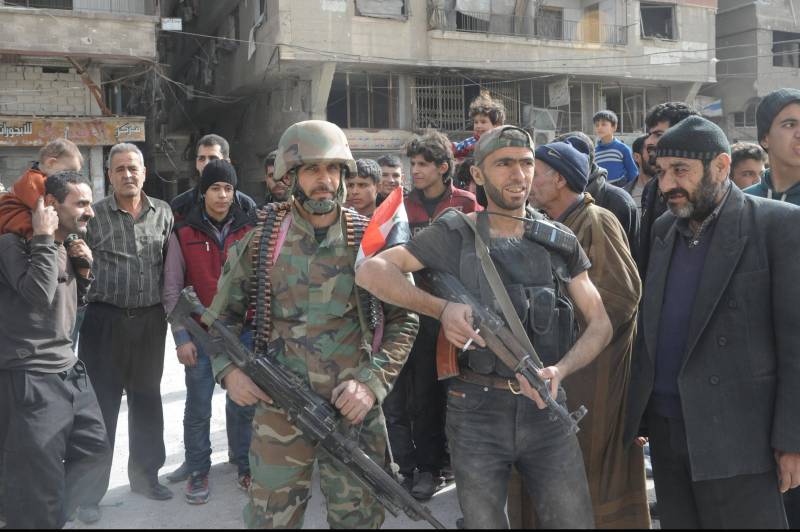 During the day, battles between the Syrian Arab Army (CAA) and the armed opposition were observed in the city of Duma (Damascus province). Earlier, government forces had several times made proposals for a peaceful settlement of the conflict, but the militants refused to voluntarily give up their positions. At the end of the day, the representatives of the group stated that they were not ready to relocate to Idlib, but would give up the position on condition that they would be allowed to evacuate to Kalamoun. Also in the region, the process of evacuation of radicals, who agreed to voluntarily surrender their positions, continued. Several buses arrived in Arbin to pick up another batch of militants and their families. Leaving the station, they set fire to their headquarters in Arbin, Zamalka, Jobar and Ain Tarme. In addition, 1,7 thousands of civilians were taken out of the battle zone in a day.
Militants again opened fire on the administrative center of the province of Aleppo. The radical Jamiat az-Zahra was hit by the radicals. Information about the damage caused by the Islamists, and the victims have been reported. In the morning, residents of Tel Rifat went to a rally against the Kurdish militia. According to media reports, protesters blocked the road connecting the settlements of Azaz and Sijo. Protesters appealed to the pro-Turkish forces demanding the liberation of the city from militants linked to the Kurdistan Workers' Party (PKK). Later, Anadolu news agency reported that Turkish President Tayyip Erdogan announced that Operation Olive Branch, directed against the Kurdish militias, would continue. The Turkish leader announced further plans to seize the city of Tel Rifat from the Syrian Democratic Forces (SDF).
The Syrian Arab Army (CAA), with the support of the Russian Aerospace Forces, attacked strongholds of terrorists in the south of Idlib province. The positions of the radicals in the vicinity of Jisr ash-Shugur, as well as near Maaret an-Numan, were subjected to shelling.
The Russian Aerospace Forces conducted a series of attacks on the strongholds of Dzhebhat an-Nusra (banned in the Russian Federation) in the vicinity of the Ziyar settlement in the province of Hama. Artillery of the government troops fired at the strongholds of the radicals near the village of Zeizun, as well as in the vicinity of the city of Al-Latamin.