In the city of Kemerovo, the investigating authorities summoned the owner of the ill-fated Zimnyaya Cherny shopping center for questioning. Recall that at this time it is known about 37 who died in the fire, more than 50 affected and at least 64 missing (among the dead, injured and missing people - children). Missing children - about 40.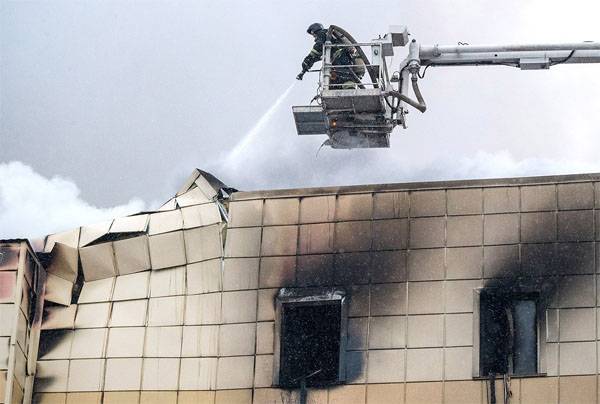 After the interrogation of the owner of the Winter Cherry Shopping Center, Nadezhda Suddenok was detained.
Local media reported that, based on information from the Emergencies Ministry, the center of ignition was probably a children's trampoline hall located in the entertainment zone of the shopping complex. It is for this reason that among the victims - a large number of children.
One of the witnesses to the fire reports that the PSC employees who worked in the shopping center were simply not ready for the development of events and themselves fell into a panic, having lost the opportunity to assist in bringing visitors to the shopping center out of the building enveloped in flames.
Emergency exits, as we have already reported, were closed, which led to an additional number of victims. Many have suffocated from carbon monoxide, which in huge amounts began to appear as a result of burning plastic structures and interior decoration of shopping centers.
Upon the tragedy, criminal cases were initiated under several articles of the Criminal Code of the Russian Federation, including "Violation of fire safety requirements, which resulted in the death of two or more persons by negligence."
It is noted that in addition to the owner of the shopping center, law enforcement officers detained two more people. According to some information, one of them is responsible for fire safety in the Zimnyaya Chery shopping center.