The cybersecurity institute of the US Military Academy of West Point released an illustrated magazine that features direct military conflict between NATO countries and Russia in the form of comics. The name of the magazine
"Quiet Ruins"
(SILENT RUIN). It is noted that the material is sci-fi character.
The preface to the illustrated magazine material includes such questions:
What if our opponents learn the lessons of military innovation over the past century and apply them to the future battlefield? What will happen if they use cyber tools and electronic warfare on this battlefield? How can we resist them?
The plot of the "science fiction story" is connected with the "future". The material of the cyber institute of the military academy at West Point (USA) considers 2027 the year and the "union" of Romania and Moldova. At this point, NATO and Russian troops are "conducting exercises" on both sides of the Russian border, and several units engage in clashes with each other, which escalates into a large-scale conflict.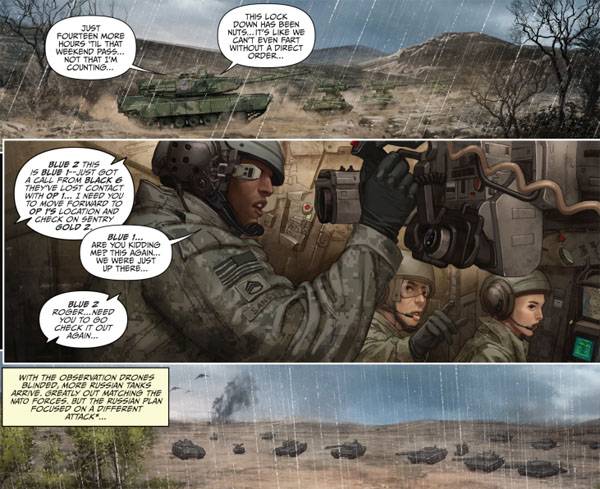 According to the scenario of the authors of the material in the American allowance, Russian troops use cyber weapons that paralyze the work of American UAVs, strike high-precision NATO weapons.
weapons
, then enter the territory of one of the NATO countries and take control of the American embassy. As a result, Russia wins the military "battle".
The authors of the material state that their manual is aimed at showing the modern servicemen how far the escalation of the conflict can go and how cyber tools can be used in the conflict. It is noted that it is in the comics version that the material "will be the most accessible".