Data on the number of victims of the fire in the shopping center "Winter Cherry" in the city of Kemerovo continue to change. The operational headquarters reports at least 37 dead. Among them are children. Such information was provided by the media by the deputy head of the Kuzbass Emergency Ministry General Committee, Boris Dedyukhin. It was noted that problems had already arisen in identifying the victims of the tragedy. The number of victims exceeded 50.
More than 600 people were involved in extinguishing the fire. Open burning was eliminated only a few hours after the start of the fire. At the same time, open burning was noted on an impressive area - more than 1,6 thousand square meters. meters
The Governor of the Kemerovo Region, Aman Tuleyev, ordered to provide immediate assistance to the families of those killed and injured. He is quoted by the TK
"Russia 24"
:
Each family, where there is a dead (allocate) a million rubles. If these are two, God forbid, then 2 means a million rubles. This decision, I report to you, is made.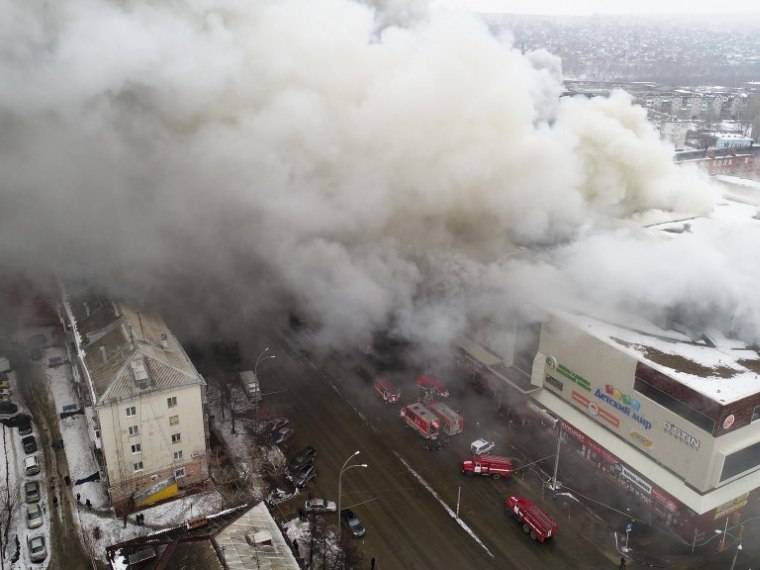 According to the number of those killed in the Zimnyaya Chery shopping center, the fire in Kemerovo became one of the largest in the newest
stories
. One of the reasons for the large number of victims is traditionally, to put it mildly, intricate logistics of exiting from the upper floors of typical shopping complexes (there are maximum two elevators, and in order to go down the escalator, you often need to go around the whole floor). Moreover, as EMERCOM employees note, the fire exits from the building were closed.
In connection with the tragedy in the city of Kemerovo, in the Kuzbass and in other regions of the country announced the beginning of large-scale fire tests. What prevents to carry out such checks according to the regulations without bringing to emergency options? - a separate question.