The Ukrainian command is constantly looking for excuses about the reasons for the loss of warships during the "Crimean spring", reports
RIA News
Statement by State Duma Deputy Dmitry Belik.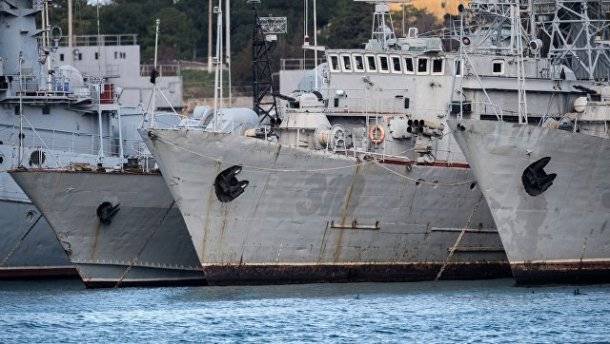 Previously Assistant Commander of Ukrainian
fleet
First-rank captain Marina Kanalyuk spoke about a deliberate donation by the national Navy during the events of 2014 in order to put the rest of the military units on alert.
We dragged time to enable higher structures to create conditions for the use of the Armed Forces of Ukraine in such a situation, and the Navy, in fact, sacrificed itself in order to give Ukraine a chance to gather all the military power that is was in the ranks and was not in the ranks,
she said.
According to Belik, the Ukrainian command "is very unconvincingly portraying the fleet as a conscious victim."
We agreed with all Ukrainian ships within a few days on the principle of "we will depict the assault, and you will surrender." In those days, the Ukrainian fleet was morally opposed to the leaders of the Maidan, and all these tales about "gathering the rest of the army" are ten
tanks
in the Kherson region, which did not even dare to provoke against the militia standing in Armyansk and Chongar. The Ukrainian command is now preparing to educate the youth, and there is nothing to tell them anything other than its worthlessness and cowardice. So come up
stories
about the conscious self-sacrifice of the fleet,
stressed the deputy.
In turn, the commander of the Black Sea Fleet, Vladimir Komoyedov, noted that the arguments of the Ukrainian Navy about "sacrificing oneself" are illogical nonsense.
"Sacrificing oneself" seems to be the basis of the combat use of the Navy of the Armed Forces of Ukraine. For other methods of warfare, they did not have, nor will there be, any competent naval personnel, forces or means. If they even wanted to, they couldn't have done anything in military terms against the Black Sea Fleet in 2014,
said Komoyedov.
He pointed out that "a significant part of the naval forces of the Armed Forces of Ukraine led by their commander at that time came under the jurisdiction of the Crimea", and those who went "to permanent base in Odessa are not the most competent naval specialists of the Armed Forces of Ukraine".
So these arguments about sacrifice, temporary prolongation and the current power of the Ukrainian army can be viewed as an illogical bullshit on the topic "In the garden elder, and uncle in Kiev,"
concluded Komoyedov.