Germany and France are considering the possibility of expanding anti-Russian sanctions in response to the poisoning of the ex-Colonel GRU Skripal in the British Salisbury, reports
Rambler
message EUobserver.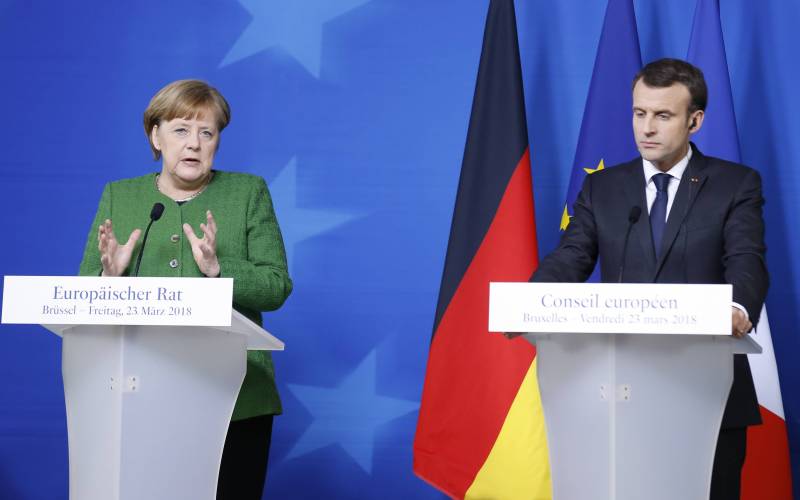 We, Germany and France, agreed that the adoption of such measures is necessary in addition to the recall of the ambassador,
German Chancellor Angela Merkel said at a joint press conference with French leader Emmanuel Macron, which took place after the EU summit.
At the same time, Merkel refused to disclose what specific measures were being considered, limiting herself only to calling the Salisbury incident "a very serious challenge to general security."
Macron, in turn, said that France would necessarily take "further action."
We consider this attack a serious challenge to our security and European sovereignty, therefore it requires a coordinated and decisive response from the European Union and its member states,
he told reporters.
According to Danish Prime Minister Lars Löcke Rasmussen, the discussion of new restrictions on Moscow may take place in June at the next summit.
As for the promised expulsion of Russian diplomats from the EU, it can begin as early as Monday. Among the countries that expressed such an intention are the Czech Republic, the Baltic republics, Denmark, France, and others.
Earlier, Russian Deputy Foreign Minister Sergei Ryabkov noted that the idea of ​​solidarity within the EU "is above common sense."
The European Union as a whole and each country separately can, of course, make decisions in the way they consider correct, but the consequences of these decisions will, of course, be double-edged,
he declared.