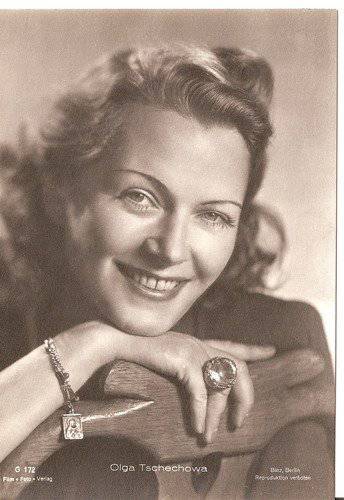 A student of the Russian school of theatrical art, she became the "film star No. 1" of Hitler's cinema. Her closest friends were Eva Brown and Magda Goebbels.
She was also friends with Leni Riefenshtahl, the "chief film chronicler" of the Third Reich, and spoke with Goering's wife, actress Emmy Zonneman. But most importantly, Olga Fyurer loved Olga Chekhov, putting her above recognized actresses Marika Rokk and Zara Leander. In Russia, films with her participation have not shown once.
Meanwhile, there are assumptions that the "adventurer," as Olga's own aunt, Olga Leonardovna Knipper-Chekhova, affectionately called Olga, was a deeply secret secret agent of Soviet intelligence and maintained regular contact with the NKVD.
In his book, Under the Pseudonym Irina, the former scout Zoya Voskresenskaya brings this
historical
sensation: "One thing is clear today: the Queen of the Nazi Reich Olga Chekhova was among those who courageously fought against fascism on the invisible front."
How Knipper became Chekhova
The names "Chekhov" and "Knipper" united more than a hundred years ago, when Anton Pavlovich Chekhov was married to the Moscow Art Theater actress Olga Leonardovna Knipper. Shortly before this momentous event, in 1897, a girl named after her aunt was born in the family of the actress's brother, Konstantin Leonardovich. Since her childhood, young Olga has amazed those around her with beauty, intelligence and self-control. The girl could get any education, but since childhood she dreamed of becoming an actress. She was so passionately fond of the theater that when she was seventeen years old, her father — an important Petersburg official — sent Olenka to her famous sister, to Moscow. It was summer 1914 of the year.
The girl quickly mastered the theater world. Stanislavsky invited Olya to her theater: on the stage she played in such productions as Dickens's Cricket on the Stove, The Cherry Orchard and Chekhov's Three Sisters. The bohemian company of young people, mostly actors of the Moscow Art Theater, just went crazy with Olenka Knipper, - the niece of the famous actress, the writer's widow, was very beautiful and seductive. Particular attention was paid to her by the two brothers Chekhov, Anton Pavlovich's nephews, Vladimir Ivanovich and Mikhail Alexandrovich.
Olga knew Mikhail for a long time, she saw on the stage of the Petersburg Maly Theater in the role of Tsar Fyodor Ivanovich. "I was just a little girl for him. I went crazy about him and drew myself in nightly dreams, what kind of happiness it would be to always-always be with him." Vladimir, who was refused in response to a marriage proposal, shot himself three years later. When the idol of her night dreams came up with the young girl, Olga agreed.
Young people crowned in September 1914, secretly
Olga was 17, Michael was 23 of the year. A happy husband wrote to one of his friends: "My wife is beautiful! My wife is not on the nose of tobacco ... Yes, I think it's not easy for you to imagine me next to a beautiful wife, a wonderful woman of seventeen." She understood that for her father Mikhail was just an "actor" and they would not receive blessings.
In a letter to his relative, Michael wrote: "Olya and I were ready for all sorts of troubles, but we didn't expect what happened. On the wedding evening, after learning about the incident, Olga Leonardovna arrived with hysterics and fainting on the stairs , in front of the door of my apartment, demanded that Olga immediately return to her! "
A year later, Olga's parents recognized this hasty marriage, besides Mikhail Chekhov at that time was called "Russia's first celebrity" and "brilliant actor." While touring with the Moscow Art Theater in the city on the Neva, he did not shy in letters to his aunt: "Your brilliant nephew wishes to say that he was received marvelously from Olya's relatives ..." A year later, in 1916, the Chekhovs had a daughter named after baptism traditionally-family name Olga, but all her life was called Ada.
By that time, Olga, the elder had entered the school of painting, sculpture and architecture, as an auditor, attending the Moscow Art Theater School. She had many friends - she studied with the sons of Stanislavsky and Kachalov, Vakhtangov, Gorky, Dobuzhinsky visited their home.
None of her famous friends seriously considered Olga's "damnable, captivating" creative work, considering the talented, though "seductive". She was upset and annoyed. Relationship with her husband became day by day more and more intense. Mikhail, who adores his beautiful wife, nevertheless drank drunkenly, and after the performances crowds of young admirers of Chekhov's talent wandered around their apartment. What, by the way, was indulged by the mother-in-law, who hated the daughter-in-law.
And they broke up
"Misha Chekhov's divorce with his wife didn't happen as unexpectedly as it might seem at first glance. He loved Olga Konstantinovna very much and she loved him. Probably Natalia Alexandrovna, an ugly mother, played an ugly role, selfish, sucked with her despotic love for her son" - wrote later a close friend of Michael, Smyshlyaev.
Mikhail Chekhov very hard experienced parting with Olga. "I remember how, leaving, already dressed, she, seeing how hard I worry about separation, caressed me and said:" How ugly you are. Well, goodbye. Soon you will forget. "And, having kissed me in a friendly way, she left." Having slightly come to his senses from a great loss, Mikhail sarcastically told one of his friends: "Gone, and left the sonorous name of the Chekhovs. I wanted to share my fame with me!"
Olga Konstantinovna left, taking her daughter with her. Soon she married Friedrich Jaroshi, an Austro-Hungarian officer. According to Mikhail Chekhov, "he was an adventurer ... elegant, beautiful, charming and talented. He presented himself as a writer and often fascinatingly expounded to us the themes of his future stories."
Olga preserved good relations with Mikhail. In June 1928, they met in Berlin: Michael came to Germany with his wife. Olga rented an apartment to her ex-husband, met Max German Reinhard, a leading German director, and even decided to make a film as a director, where the main role was intended for Mikhail. But he "did not take root" and left first to the Baltic States, and then to Paris.
Later, Mikhail emigrated to the United States and, settling in Hollywood, created a school of Russian theater art. Despite the new family, he always gently loved his daughter Olga (Hell), who remained with her mother and bequeathed her a villa near San Francisco.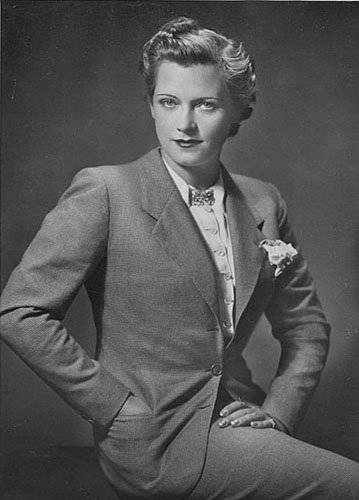 "State Actress" Reich
In January, 1921, Olga Chekhova, managed to obtain permission from the People's Commissar for Education of the RSFSR Lunacharsky to leave the country "to improve his health and continue his theatrical education." According to available information, before leaving, she had a meeting with the head of the Counterintelligence Department of the GPU, A.Kh. Artuzov, known for the operation "Trust".
In 1923, she stopped Larisa Reisner, who arrived in Berlin to cover the proletarian revolution that was being prepared. At the same time, according to some researchers, the connection of Olga Chekhova with Soviet intelligence began. Olga divorces Friedrich and, in order to somehow make ends meet, begins to play, for starters, in small playwrights. Still, despite the arrogant reviews of her Russian friends, the talent of the "beautiful Olga" was. Plus "amazing female power", noticed by her famous aunt. In less than eight years, she made a dizzying career.
Having no support, not knowing German, a beautiful and intelligent woman, Olga Chekhova, becomes one of the stars of German cinema, and then, after the Nazis came to power, and the "state actress" of the Third Reich, entering the close circle of Hitler and Goebbels. "Those years taught me to distinguish between the main and secondary," she wrote in her memoirs. The main thing, of course, was the theater. In Germany, Olga Chekhova made her debut in the film "Fogeled Castle" (1921 year). The premiere ended with the success of the charming foreigner.
This was followed by the filming of "The Round Dance of Death" and once again was a big hit with the German public. The actress is invited to his masters such as Douglas Fairbanks, Harold Lloyd, Adolf Manju. The famous director Alfred Hitchcock offered her the main role in one of his films - the detective story "Marie". Among the most famous films with her participation - "Masquerade", "The World without a Mask", "Why Marry", "Beautiful Orchids".
Sentimental German public recognized and fell in love with Olga
The audience wanted to see it on the screen as often as possible, and the producers willingly used the fame of the "newborn" star. In 1923, she takes German citizenship. Suggestions of roles fell from all sides. "I work with the energy of a hundred horses," she wrote to Moscow Olga Leonardovna, "because, apart from studying with Misha, I have no school." By the time the young actress starred in 6-7 films annually, the name of Olga Chekhova became known to almost everyone, and after the release of the Moulin Rouge screen, she woke up famous.
In 1930, Olga Chekhova had a rival, Marlene Dietrich, who, however, quickly disappeared in overseas Hollywood. By the way, Olga was also invited there, but, realizing that she couldn't make her career there, she returned to Germany. With the advent of Hitler to power, this act was appreciated.
"In January, 1933, Hitler became the Reich Chancellor, and Dr. Joseph Goebbels became the Reich Minister of Education and Propaganda. The changed morals of the Third Reich make themselves felt in an unusual invitation: one fine day the mother (the mother, sister, and niece of the actress lived with her in Berlin - author) informs me to the studio over the phone that they are waiting for me in the afternoon at the reception of the Minister of Propaganda. It will be the Führer, also the Reich Chancellor. As soon as I am going to leave the studio, an inflated official of the Ministry of Propaganda technological command and carries me nepereodetoy the Wilhelmstrasse.
Before the room in which tea is served, Hitler stands in a civilian. He immediately starts talking about my film "Burning Border", showered me with compliments. My first impression of him: timid, awkward, although he keeps himself with the ladies with Austrian courtesy. It is striking, almost incomprehensible, his transformation from a ranting bore into a fanatical instigator when he faces the masses. Goebbels ... seemingly bypassed by nature, with difficulty moving man, clearly enjoys the ministerial post and the opportunity to gather cultural figures around herself. "So Olga Konstantinovna describes in the book" My Watch Goes Different "(1973 Year) the first meeting with the leaders of the Third Reich. After Admission to Goebbels and Hitler's compliments. Olga Chekhova's popularity has grown "almost to frightening heights."
From the certificate signed in November 1945 by the head of the 4 section of the Main Directorate SMERSH, Major General Utekhin:
"In 1922 (such a date in the documents - auth.), Chekhov Olga went abroad for the purpose of receiving education in the field of cinematography and until recently lived in Germany - Berlin, Gross-Glienicke in her own house. Living abroad, she became famous as a film actress and starred in movies in Germany, France, Austria, Czechoslovakia, the Balkans and Hollywood (USA). Simultaneously, from the day Germany surrendered, she played in private theaters in Berlin. In 1936, she received the title of "state actress of Germany."
According to the intelligence materials, as well as according to the testimony of the German intelligence agent Glazunov B.F., arrested by the SMERSH Directorate of the Group of Soviet Occupation Forces in Germany, who knows Chekhov O.K. since childhood and keeping up with her acquaintance until recently, Olga Chekhova, a famous actress, has repeatedly attended official receptions organized by the leaders of fascist Germany, and was close to Hitler, Goebbels and other major Nazis. "
She, a charming woman and a popular actress, was indeed regularly invited to the receptions by the leaders of the Third Reich.
It is thanks to the recommendation of Goebbels, Olga Chekhova in 1936, was awarded the title of "state actress". Somewhat later, the Führer himself gave her his photo with the following inscription: "Frau Olga Chekhova - frankly admired and surprised." Perhaps that is why "all foreigners who came to Berlin were led to my theater, as in a menagerie," she said ironically in a memoir.
After marrying a Belgian millionaire Marcel Robins, "a decent, but very pampered and spoiled man" in 1936, Olga was disappointed again. All her life she did not like weak-willed people. Spouses break up. The actress returns to Berlin, where in only four years of the war she has been in forty films. In total, for her film career, Olga Chekhova appeared in 145 tapes.
In 1937, returning from Paris after the Moscow Art Theater tour, OL Knipper-Chekhov drove to Berlin to visit her niece. Olga Leonardovna left promptly - the very next morning after the reception, arranged in her honor. In Moscow, "behind closed doors", she told with horror to her relatives that in the house of "Olga's adventurers" she was introduced to the leaders of the Reich. She shook hands with Goering! Hitler called, regretted that he could not come.
The Germans idolized their "star". For them, Olga Chekhova was a woman "who could throw up men's longing," part of the German dream. During the war years, soldiers and officers were eagerly awaiting every new film with her participation.
"Double agent" of Hitler and Stalin
"We were very lucky," said Hitler during one of the table talks, "that in Berlin we have such ladies as actresses Lil Dagover, Olga Chekhova and Tiana Lemnitz." Olga Chekhova, continuing to work "for the good of the great Germany", categorically refused to participate in military reports from the eastern front. Speaking on the radio, never sang patriotic songs, preferring lyric.
There were photos in which Olga Chekhova was captured "by hand" with the leaders of Germany - they appeared in all German newspapers. The actress felt in the Reichstag, as Andrei Sudoplatov writes, "as if in her own villa, she could afford very independent judgments." Only once the "black cat of distrust and suspicion" runs between Chekhova and her high patrons. She wrote about this in memoirs "My watch is different."
A month after the start of the war, Goebbels hosted a reception at which the forthcoming capture of Moscow was celebrated. Unexpectedly for all, the Reich Minister addressed the actress with a question.
- Do you think, madam, that this war will be over before winter, and we will celebrate Christmas in Moscow?
"No," I answer calmly.
Goebbels are cold:
- Why not?
- Napoleon was convinced of what Russian spaces are.
"There is a huge difference between the French and us," Goebbels smiles indulgently. - We came to Russia as liberators. The Bolshevik clique will be overthrown by a new revolution!
I'm trying to calm my nerves. It works out badly.
- The new revolution will not take place, Herr Minister, before the danger of the Russians will stand together more than ever!
"Interesting, madam," said Goebbels coldly and leaning forward, "then you don't trust German military might?"
"I do not predict anything, Herr Minister," the actress calmly replied, "you just asked me if our soldiers would be for Christmas in Moscow, I said my opinion." It can be both true and erroneous.
After this dialogue, a long silence is established. Goebbels peered suspiciously into Chekhova's impassive face. However, the incident with the Reichsminist propaganda did not entail any negative consequences.
The Fuhrer's Lover
The striking combination: "the star of the Third Reich, the favorite of the Fuhrer and - an agent of Soviet intelligence." Pavel Sudoplatov reports that in 1940, to the old sources of information, "the famous actress Olga Chekhova and Prince Janusz Radziwill collaborated with us on the basis of trust and recruiting obligations ...". What happened before 40? Artuzov could tell about this, but he was shot as an "enemy of the people" in 1937. Communication with Olga Chekhova was lost and, apparently, only on the eve of the war she was able to recover.
Reception at Ribbentrop, 1939 Year: Adolf Hitler with Olga Chekhova
By August 1942, the Red Kapella operating in Germany, a powerful intelligence network that included military intelligence agents and the NKVD, was destroyed by German intelligence services. Despite the severe failure, in Germany a number of important sources of information and agents of influence survived. "Olga Chekhova and the Polish prince Janusz Radziwill were not compromised," writes Pavel Sudoplatov in his memoirs. "However, there were no reliable contacts with them."
Even in her memoirs, she remained an actress, without telling anything about her work on Soviet intelligence. Vladimir Knipper (cousin OK) in the book "It's time for hallucinations," according to Olga Konstantinovna herself, recalls such an episode. "In the spring of 1945, at the very end of the war, the threat of arrest hung over Chekhov. The action was carried out by Himmler. It is incredible how she managed to postpone the arrest from evening to the next morning, but this is a fact. When the next morning the SS men headed by Himmler entered the house Chekhov, they caught her for her morning coffee in the company of Hitler.
According to the stories of Chekhova, Hitler "informed her about his favor in the following expressions:" I take, Frau Chekhov, patronage over you, and not that Himmler will persuade you to his basements. I can imagine what his dossier is on you. "Did Hitler know about Chekhova's intelligence activities, and if he did, he didn't interfere? Or was he self-confident and didn't admit that this defenseless woman could deceive him? ..
Trip to Moscow
In late May 1945, Olga Leonardovna Knipper-Chekhova received a parcel from Berlin in the name of her niece. In the package were luxurious toilets, gloves, in short everything you need for evening receptions. A letter from the daughter Olga (Ada) was enclosed with the package. She was worried that her mother, who had so hurriedly left on tour to Moscow, did not have time to take theatrical props with her, wondered how her mother went on tour in the Art Theater, did she play in the Three Sisters?
Meanwhile, Olga Chekhova did not have any tours in Moscow. Shocked, Olga Leonardovna rushed to Vasily Ivanovich Kachalov, who was familiar with the commandant of Berlin, N. E. Berzarin.
General Berzarin's response made everyone even more confused. When Kachalov called the general, he, always kind, advised the actor in an icy tone never to ask anyone about Olga Chekhova.
- I don't know anything about Olga Chekhova, and don't call me again, forget about it.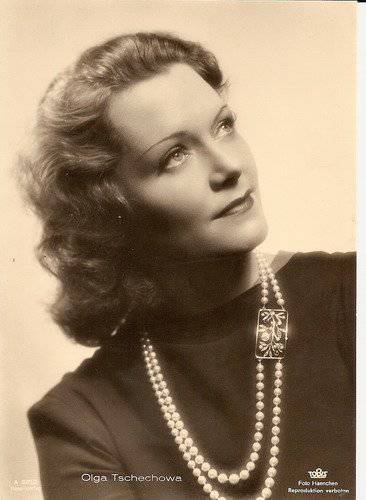 The veil over the mystery, which did not give rest to Olga Chekhova's relatives, nevertheless opened. Yes, in 1945, Olga Konstantinovna really visited the city of her youth. In Berlin, there were still battles. On April 29, the counterintelligence officers of the SMERSH of the 1 of the Belorussian Front in the Soviet occupation zone detained and sent on a plane to Moscow "state actress of Germany" Olga Chekhova. After all, literally everyone was aware of her ties with the Hitlerite leaders.
From the certificate, signed by Major General Utekhin, Head of the 4 Division of the Main Directorate of SMERSH:
"After the Red Army of Berlin occupied Chekhov, O. K. was brought to Moscow and placed in the safe house of the Main Directorate of SMERSH. While in Moscow, Chekhov was questioned in detail about her relations with the Nazi leaders in Germany. In her explanation, Chekhov confirmed that she had repeatedly been guest at receptions in the German Propaganda Ministry and met with Hitler, Goebbels, Goering, Ribbentrop and others.
However, as Chekhov pointed out, the receptions were only official, they were attended by diplomats, scholars, writers, and actors. Chekhova explained that in Germany, many of the envy of her as a celebrity, or of wanting to compromise her in the eyes of the Russians, can make a statement that she has a close relationship with Hitler or someone else from his circle, but she has such connections did not have. To the SMERSH operative who lived with Chekhov in an apartment disguised as an Intourist employee, Chekhov also said that they would try to slander her in Germany. "
From the diary of O. K. Chekhova:
"The messages that spread about me are worthy of the novel. Apparently, information was received that I was close to Hitler. My God, I laughed a lot about it. How and why are these intrigues conducted? Incredible and vile slander! When the conscience is clear, Doesn't touch anything. And how beautiful it is that you can tell the truth. If they want to believe me, time will tell. " He was interrogated by the head of counter-intelligence SMERSH Viktor Abakumov. When reading archival documents, it seems that Olga Chekhov was brought only in order to hear stories about the "high life of the Nazi bosses". Here is a characteristic quotation from the interrogation report:
"I don't remember exactly in which it was the year when the king and his wife came from Yugoslavia. It seems there were great commemorations in 1938 for four days in a row. A reception was given at Charloturburg Palace. It was arranged by Goering. In the Prussian old palace, the rooms were lit by candles in the old chandeliers, everyone was dressed in costumes from the time of Frederick the Great. Goering and his wife met guests. After dinner, I sat with the royal couple in the garden, talking about my films, my tours and the Moscow Art Theater. "
Only one detail in the archival documents attracts attention: Olga Konstantinovna writes that allegedly she managed to convince her patrons and fans not to touch the Chekhov's house-museum in Yalta.
From the reference of Major General Utekhin:
"While in Moscow, Chekhova kept a diary in German, which she carefully hid. By secret seizure and viewing of the diary, it was established that Chekhov's diary records her impressions of being in Moscow."
From the diary of O. K. Chekhova:
"I'm in a locked room on May 1. For what? I seem to be a toy that was found on the road and picked up, but no one knows what to do with it now. I don't have time to play, but I don't want to throw it. Disappointing view from the window to the factory with broken windows. Why am I suffering? "
Then the following entry appears in the diary:
"Last night I must finally go to the third time to see Colonel-General X. I have the impression that he doesn't know what to do with me. I was brought here on political" suspicions. "I am sure of it. it's funny! "
A couple of days later, Chekhov wrote: "At two o'clock in the morning, I was with the colonel-general. At three o'clock in the morning, we drove through quiet Moscow and headed outside the city ... Fabulously beautiful. They also said that I had plastic surgery repeatedly, but I hide it. Why are we these intrigues? " However, at the same time, Olga Konstantinovna noted that all the officers and service personnel were "courteous, polite and attentive with her."
"I am pampered and fulfill all my desires. They sent the best hairdresser, wine, products: caviar, lemons ... It was enough for me to hint that Olya, who remained in Berlin, might need products, as it was already settled. I have radio, flowers, perfume, best books. "
Everything that Olga Chekhova wrote in her diary was clearly intended for Abakumov's department. Could it be that Smerzheans really believed in the naivety of a woman who writes a diary in a safe flat and hopes that it will remain a secret? She was hardly a naive person. Yes, and diary descriptions, you see, are more like a description of the life of a person resting in a sanatorium than a "meager prisoner life." The first post-war May is coming, and here is caviar, lemons ...
"During interrogations," Sergo Gegechkori (Beria's son) writes in her book, "she behaved well. In any case, even Abakumov, the head of the Main Counterintelligence Directorate, was Deputy Commissar of Defense, stating that a German citizen detained in the zone of the Soviet occupation forces Olga Chekhova is a Soviet intelligence officer, she never learned. What can we say about the rest. I am not at all surprised that the state security organs of the former Soviet Union, now Russia, could not confirm Olga Chekhova's involvement in the activities of the Soviet There is no such document. The explanation is simple: my father decided not to disclose it at the time, at forty-five, or later. I must say, quite a typical case. hundreds of surnames. The father believed that "this illegal cannot be let through the apparatus."
Today it is not a secret for anyone that the Soviet intelligence, headed by Lawrence Beria, had its agents in the German General Staff, in the Abwehr and "in the holy of holies, in Hitler's Reich Chancellery."
From the book of Sergo Gegechkori:
"When my father found out that the German actress Olga Chekhova was detained, he asked what Abakumov was going to do with her and what materials the military counterintelligence had compromising this woman. SMERSH did not have any data for the arrest of Chekhova.
"In that case," said the father, "she should be let go, let her go to Germany ..."
And Chekhov really left for Germany. As far as I know, both she and her daughter were well provided for and did not return to the Union. Olga Chekhova was involved in cooperation with my father for many years. I know who recruited her, and on what grounds this was done, but I do not consider myself entitled to speak about such details from the biography of a scout. I can only say that no provocations were allowed against Olga Chekhova, and she worked for Soviet strategic intelligence by no means from material considerations.
Its contribution to the success of our intelligence is difficult to overestimate. Olga Konstantinovna was a truly invaluable source of information that Beria so valued for nothing. Even in her memoirs, published in the Federal Republic of Germany, she didn't say a word about her other (main) life. "But in the fall of forty-five in the Western press she was called" Russian spy who captured Hitler, "" queen of the Nazi Reich, "and even They wrote that Stalin received her in Moscow and awarded her with the Order of Lenin. This is not entirely true. Olga Chekhova was truly thanked for her work in intelligence, ensuring her material well-being.
And the suspicions that she worked for the Soviet Union remained in the West only suspicions, no more. The post-war West suspected Olga Chekhov not only in this. At one time there was a version that "Chekhov is a double agent of Hitler and Stalin."
After keeping Olga Chekhov at the Moscow safe house for two months, they bring her back to Berlin
She was not allowed to see her next of kin. "Chekhova Olga Konstantinovna with the family and property belonging to her was resettled to the eastern part of Berlin," General Vadis, head of the SMERSH in Germany, reports to Abakumov.
Interestingly, after the interrogations in Moscow, the actress Chekhova and the head of counterintelligence SMERSH parted friendly, and Olga Konstantinovna wrote Abakumov a "thank-you letter" asking "dear Viktor Sergeyevich" when they "meet again." According to Pavel Sudoplatov, Olga Chekhova "was sent directly to Abakumov, who became Minister of State Security in 1946 in the year. She maintained personal correspondence with Abakumov, while in Germany, until his arrest in July 1951."
A document was preserved on which 22 on November 1945 of the year Beria writes: "T. Abakumov, what is proposed to be done regarding Chekhova?" In response, counterintelligence takes care of food products for the Chekhova family, gasoline for its car, building materials for the renovation of a new house, "the protection of family members and armed escort" on numerous trips. Olga was allowed to go everywhere - to the American zone, to Austria, on tour, to shoot. She still worked a lot, reaching her "pre-war rate" - seven films a year.
В
Adimo, it is not by chance that Lavrenty Pavlovich "fed up" such a valuable frame.
Beria, who hatched a plan to unite the two Germanys, "suggested using her for talks with the German Chancellor Konrad Adenauer." In this regard, 26 June 1953, a meeting was held between Olga Chekhova and Zoya Rybkina-Voskresenskaya, the future writer, head of the German foreign intelligence department. Ironically, on the same day, Beria himself was arrested, who started this "operation", and after him the head of the 4 administration, Lieutenant General Pavel Sudoplatov, with whom Voskresenskaya worked side by side for two decades, including and in an illegal situation.
Zoya Ivanovna said at the party committee that they were friends with Sudoplatov's families. She was quickly identified in Vorkuta for the post of senior lieutenant, and then fired. So, apparently, the meeting with Olga Chekhova had no "practical continuation".
The information that Chekhov was a scout, besides V.Frishauer's article in People, is also available from other competent sources. In 1993, the oldest security officer Pavel Sudoplatov called Olga Chekhov "one of the top secret agents Beria and Stalin." Sergo Gegechkori (Beria) said the same thing in his book "Father's Personal Agents," where he calls Chekhov "an experienced Soviet intelligence officer." According to some information, it was Olga Chekhova who told our command the time of the German tank attack near Kursk.
It is interesting that Chekhov herself always categorically denied her involvement in Soviet counterintelligence: "I do not take these dubious reports seriously, because over the years of my life I learned to ignore gossip and gossip in the light of the ramp," but "vaguely hinted" at some "spyware" history, "which allowed the English People magazine to say: Chekhov was supposed to provide" NKVD agents with access to Hitler for the purpose of murder, the group was already in Germany, but Stalin abandoned this project. "
Failed assassination attempt
In the book "Special Operations" Pavel Sudoplatov writes: "We had a plan to kill Hitler, according to which the Polish prince Janusz Radziwill and Olga Chekhova were to provide our people with access to Hitler with the help of his friends among the German aristocracy. A group of agents abandoned in Germany and those who were in Berlin underground, completely subordinated to the militant Igor Miklashevsky, who arrived in Germany at the beginning of 1942 of the year. "
Uncle Miklashevsky fled from Soviet Russia in the first year of the war and became one of the active members of the committee for the liberation of the USSR. He gladly accepted his nephew and gave him full support. In 1942, Miklashevsky managed to meet with Olga Chekhova at one of the receptions. He conveyed to the Center that Goering would be easily removed, but the Kremlin showed little interest in this.
According to legend, the former boxing champion Miklashevsky became a defector. In Berlin, he gained considerable popularity after a fight with Max Schmeling, the "king of the German ring."
"There was, for example, nothing surprising in the fact that I was told by Igor Miklashevsky, with a bouquet of flowers coming up to the car where Olga Chekhova came to the theater. My mother was familiar with her in Moscow. But to talk about the case for a long time did not succeed. " And then Igor finds a way out - he asks "Uncle Seva" to take him with him to one of the receptions where Olga Chekhova will shine in order to express her admiration. During the reception, to the sound of music, Miklashevsky, approaching the example, utters a meaningless phrase that is a password.
"In the 1943 year," says Sudoplatov, "Stalin abandoned his original plan for an assassination attempt on Hitler, because he was afraid that as soon as Hitler was eliminated, the Nazi circles and military would try to conclude a separate peace treaty with the allies without the participation of the Soviet Union."
Last frames
In 1954, Olga Chekhova leaves the world of cinema forever, and after eight years, she breaks up with the stage, having played for the last time in O. Wilde's play "Lady Lady Windmeier's Fan". Ten years later, she went to Moscow with her daughter Ada and granddaughter Vera (later an actress in West German theater and cinema) and wrote to old Moscow Art Theater friends that she was going to come "completely at home, only the secretary, doctor and massage therapist would be with me. I want to visit the graves of Uncle Anton and Aunt Oli. "
Alla Tarasova, a girlfriend of her youth, was frightened by the mere mention of the name of Chekhova, and a letter was sent to Berlin saying that "it is not yet time to come." And Olga Konstantinovna stopped writing to Moscow, moreover, when there were messages from Russia on the radio or television, she always turned them off.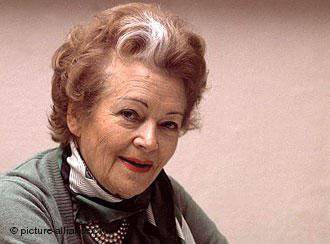 In his declining years, completing his film and theater career, Chekhov opened the Olga Chekhova-Cosmetic company in 1965. Things "Chekhov-cosmetics" immediately went more than successfully. Clients firmly believed that this seventy-year-old woman, who preserved her beauty, would tell them the "secret of eternal youth."
A year later, the daughter of Hell dies in a plane crash, and Olga Konstantinovna devotes herself to her grandson Misha, named after his brilliant grandfather. And then, in 1970, he begins writing memoirs full of ambiguities, inaccuracies, and inconsistencies. Olga Chekhova published two books of memories and a guide to cosmetics and a healthy lifestyle.
Hours of life of Olga Konstantinovna Knipper-Chekhova, who "went their lives differently", stopped in the 1980 year. At the age of 83, the actress died from brain cancer. After this, a stunning version appeared that the famous Amber Room was hidden in Hitler's bunker in Thuringia, codenamed "Olga".