Exactly 75 years ago - March 22 1943 of the year - Khatyn was burned down by Nazi occupiers and their accomplices. For three quarters of a century, the very name of this Belarusian village is significant. This is a reminder of the atrocities of the Nazi punitive detachments during the Great Patriotic War in the territory of the Soviet Union.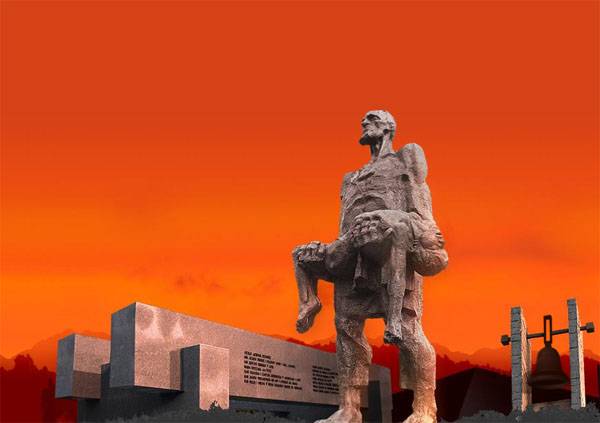 With the wording "for possible cooperation with partisans", in Khatyn, 149 people, including young children, were burnt alive and shot. Collaborationists from the 115 battalion of the "Schutzmanshafta" - a unit formed from the security police, local traitors and mainly from representatives of the OUN (* banned in the Russian Federation) - former members of the so-called. "Bukovinsky Kuren" (Melnikov). Representatives of the SS 36 Division (Oscar Dierlewanger Division) also directly participated in the commission of a war crime.
History
Kept the names of the direct perpetrators of the atrocities in Khatyn:
commanders - Major Konstantin Smovsky, Major Ivan Shudrya;
company commander: Vinnitsa;
platoon: Lieutenant Meleshko, Pasichnik;
Chief of Staff: Grigory Vasyura;
Private staff: Corporal (machine gunner) I. Kozinchenko, Private G. Spivak, S. Sakhno, O. Knap, T. Topchiy, I. Petrichuk, Vladimir Katryuk, Lakusta, Lukovich, Shcherban, Varlamov, Khrenov, Egorov, Subbotin, Iskander , Khachaturian.
In 1986, a trial was held in Minsk over Grigory Vasury. During the process, it was established that he personally executed more than 360 women, old people, children in the territories occupied by the Nazis (the Khatyn crime - among others). By decision of the military tribunal of the Belarusian Military District, Vasyur was found guilty and sentenced to death. Only after 43, after the terrible tragedy in Khatyn.
And V.Katryuk died at all in his death in the 2015 year, having fled at the time to Canada. Canada has a long tradition of welcoming Nazi criminals.
Site
Memorial complex "Khatyn" reminds:
None of the most detailed geographic map you will not find this Belarusian village today. It was destroyed by the Nazis in the spring of 1943. Khatyn - the former village of the Logoisk district of the Minsk region of Belarus - has become a symbol of the tragedy of the Belarusian people, a mournful page in the history of the Great Patriotic War. In memory of the victims 2 million 230 thousand inhabitants of Belarus in 1969, a memorial complex was built on the site of the village of Khatyn burned together with the inhabitants, which embodies the idea of ​​courage and disobedience of the people who brought innumerable victims in the name of Victory.
The tragedy of Khatyn is one of many thousands of facts testifying to the purposeful policy of genocide during the Nazi occupation.
We remember.