Vladimir Zhirinovsky, who won the 3-place with the 5,65% of votes on the basis of the presidential election, proposed to the State Duma to consider his initiative to switch to the 12-hour working day. According to Zhirinovsky, the Duma needs to work with 9: 00 to 21: 00 - as he does (in his own words). Zhirinovsky also proposed depriving deputies of vacations. The website of the Liberal Democratic Party leads the party leader's statement:
We don't have to arrange holidays at all; let's work every day from nine to nine, as I work, as I spoke at the debates, the only one of the candidates. They were all weak, left the studios, could not constantly argue. Therefore, if you do not have enough power and strength, do not participate in the presidential elections. Not enough health and stamina to be a State Duma deputy? Please do not then.
Against this background, political scientists in the Russian Federation are predicting to the parties represented in parliament, but not having a majority, reform. One of the most notorious statements was made in the framework of the so-called factional speeches by State Duma Deputy Dmitry Ionin. On Facebook, the deputy wrote that "Fair Russia", the LDPR and the Communist Party of the Russian Federation could have thought about merging into one party.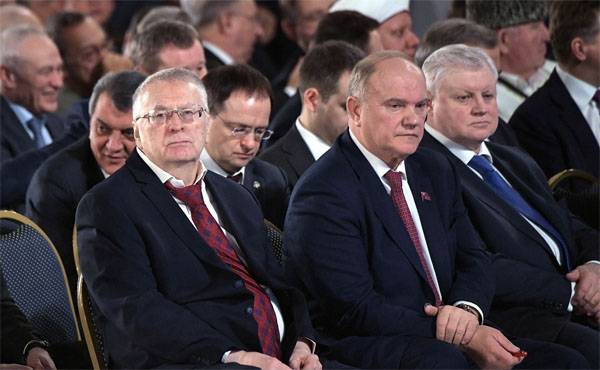 From his
notes
:
In the framework of the first after-election meeting of the State Duma, we, the Party of Just Russia, made a political proposal to unite the opposition parliamentary parties. A political statement has just been voiced within the framework of fractional ten minutes.

The work of the CP, the Communist Party of the Russian Federation and the LDPR in the State Duma has long demonstrated the potential for unification. On many issues, we vote the same way.
Today we can unite in the framework of monitoring the implementation of domestic policy issues, on which we intersect with the points of the message of the President of Russia to the Federal Assembly.

Uniting into a single center-left coalition will allow efforts to be combined to create a real alternative to United Russia. At a minimum, it is necessary to return to the practice of blocs and unite to the next major elections in the regions and elections to the next State Duma.