Urgent reports are coming from Kiev that after the meeting of the regulatory committee of the Verkhovna Rada on issues related to the fate of the people's deputy Nadezhda Savchenko, she was detained directly in the VRU building. Before that, for Savchenko, the relevant decree "on suspicion" was read out.
At the moment, as reported by the Ukrainian media, Savchenko, accompanied by law enforcement officers from the VRU building, walked on foot to the building of the Security Service of Ukraine. There will be an appropriate protocol.
Recall that the head of the GPU, Yuriy Lutsenko, accuses Nadezhda Savchenko of the fact that she allegedly entered into an agreement with the head of the DPR, Alexander Zakharchenko, and the head of the public association "Officers of Ukraine", Vladimir Ruban, "to commit a terrorist attack in the Verkhovna Rada." Ruban was detained a few days earlier.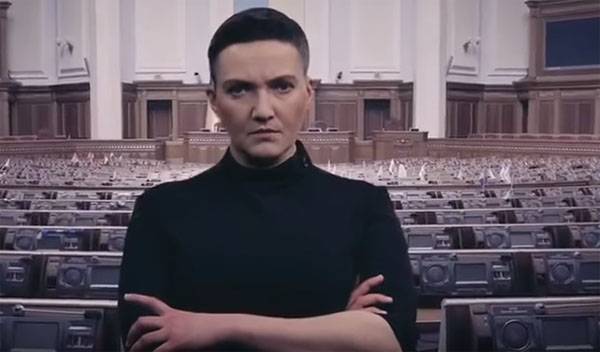 Nadezhda Savchenko herself responded by saying that Lutsenko was put on her current post precisely in order to cover the crimes of the current authorities, for which she was initiating criminal cases on a contrived occasion.
Before the detention, Nadezhda Savchenko had time to talk with her supporters who had gone to the rally in the VRU building.
And now in the Parliament and the PACE will be hung a banner "Freedom to Nadia Savchenko"?