The Israeli press, citing the country's police leadership, publishes materials that recognize the successful practice of conducting gas attacks from the air throughout the Gaza Strip. We are talking about the practice of using tear gas against Palestinian protesters, going to the action in the so-called days of anger.
For the first time, tear gas at the Gaza border using Israeli drone guns was used on March 9. The effect of the Israeli police is recognized as "positive." Then the Israeli authorities said that tear gas was used "against Hamas." After the Israeli attack, more than a hundred residents of the Gaza Strip were hospitalized with skin and mucous membranes.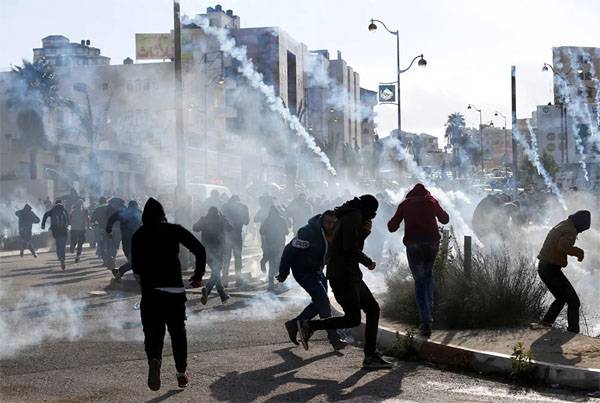 The commander of the Israeli Border Police, General Yakov Shabtai, in an interview with Hadashot TV said the following:
Now unmanned aerial vehicles will be more actively applied along our borders. They will spray tear gas or drop special containers with this substance. At the same time, such an application makes it possible to hit gas over much larger areas than in the usual variant - from the ground. The risk of poisoning random people in the affected area? He is low.
Also stated that the UAV, equipped with containers with tear gas, will allow Israeli soldiers not to approach close to the border with the Gaza Strip, which will reduce the likelihood of destruction (eg, stone or knife) from the adjacent territory.
It is known that a UAV used for air attacks during protests can carry up to 6 special containers with tear substance.
So what? Someone is already convening an emergency meeting of the UN Security Council, demanding the expulsion of Israeli diplomats or the introduction of other anti-Israeli sanctions?