After allegations that Savchenko came to the IUU building with grenades, which eventually turned out to be fruit, the Verkhovna Rada guards were ordered to increase their vigilance. One of those on whom the intensification of vigilance decided to test, was the extra fractional deputy Parasyuk.
It came to the point that after refusing to demonstrate the contents of his bag, he made an attempt to run away from the guards. However, in the end, he still had to show the contents. The process turned into an emotional act, during which Parasyuk took the belt out of his pants and in a force threw it around the neck of one of the representatives of the security service. After a skirmish Parasyuk still went to the meeting room.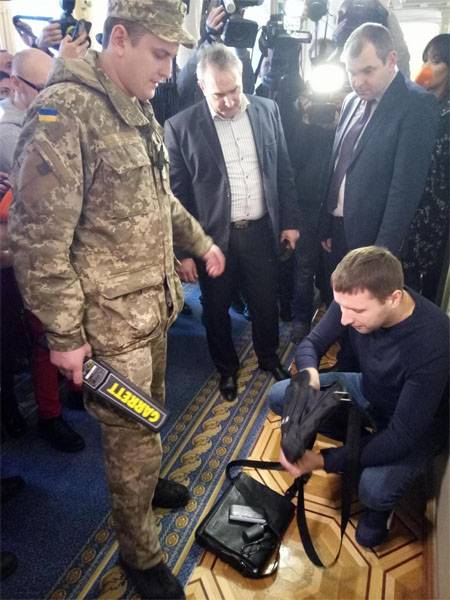 Against this background, another deputy of the Verkhovna Rada of Ukraine, Yevgeny Murayev, said in an interview with the Ukrainian NewsOne channel that Ukraine had completely lost its sovereignty and its subjectivity. From the statement of the people's deputy Murayev:
Neither the level of corruption, nor the real events that take place in the Donbass can be hidden from the world. Yes, our Ukrainians can endlessly tell and hang all kinds of noodles on the ears, but the world knows the truth.
The deputy notes that the Ukrainian sovereignty is exchanged for promises of support by western partners.
At the same time, some details of the skirmish between Nadezhda Savchenko and Yuriy Lutsenko at the meeting of the VRU regulatory committee became known. When Savchenko declared that her only desire was to end the war in the Donbas, the Prosecutor General of Ukraine interrupted, saying (quote
UNIAN
):
Hope, if you so want to end this war, then
it was necessary to blow up Zakharchenko
and not the Verkhovna Rada and the government ... But you,
weapon
, received from terrorists, was delivered to Kiev to shoot peaceful people from mortars, to destroy the constitutional authorities, to create chaos and for further coordination with the terrorists of their attack on the Donbass. That is why Yanukovych delays his process ... He, behind the backs of the DNR terrorists, after you allegedly planned explosions in Kiev, wanted to return to
your bloody throne
.
Apparently, Lutsenko himself uses the term "supposedly" in his speech about the planned explosions. It says a lot.