Verkhovna Rada deputy Nadezhda Savchenko decided to arrange another performance. Today, she brought grenades to a meeting of the VRU committee, where its further fate is actually being decided. We are talking about two grenades - the fruits that Savchenko defiantly put on the table in front of her.
During one of the "dialogues" in the Prosecutor General of Ukraine Yury Lutsenko, who accuses Savchenko of the fact that she was allegedly going to blow up the building of the Verkhovna Rada, the people's deputy said:
When I entered the Verkhovna Rada, and the rumor went that let Matios (chief military prosecutor) say that I am carrying grenades, because I have a heavy bag. There were two packs of paper, and, of course, grenades (fruit) ... You should have seen the reaction of the Verkhovna Rada - people pulled out a card and climbed over the chairs. They were told that the expansion of the F-1 200 m - calculate the perimeter - you will not go far, then it turned into a fabulous circus.
Savchenko, pointing to the grenades on the table:
I can share. Or maybe throw?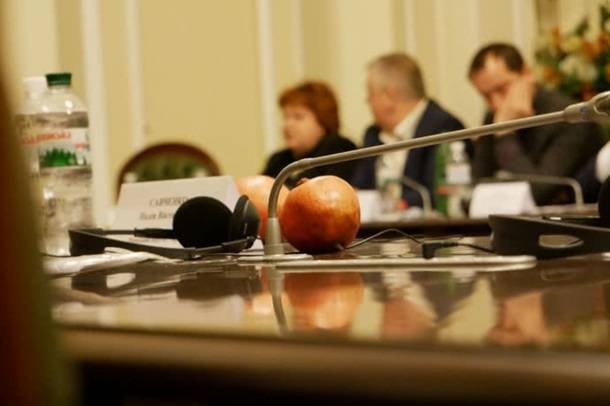 Lutsenko told the deputies of the Parliament that the investigation "has incontrovertible evidence that Nadezhda Savchenko personally planned, recruited people and gave instructions on how to carry out an act of terrorism in the meeting room of the parliament."
In total, there are several issues on the agenda of the Committee on the Rules of Ukrainian Parliament. All of them are associated with Savchenko. So, among the questions is the possible detention of Savchenko, the bringing of a people's deputy to criminal responsibility, the possibility of detention.
A few minutes ago it became known that the regulatory committee of the VRU had agreed to the arrest of Nadezhda Savchenko.