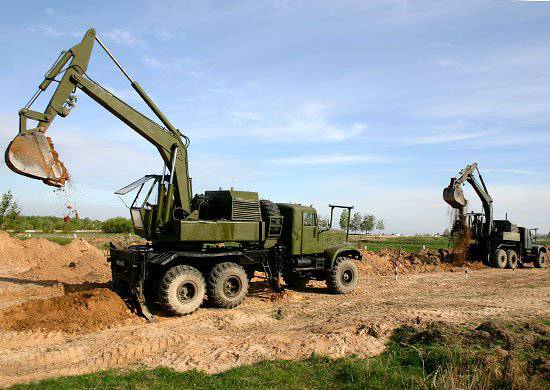 Beginning with 2010, the volumes of supplies of engineering equipment and engineering property to military units of the Strategic Missile Forces (RVSN) increased approximately 3 times as compared with previous years.
Taking into account the importance of fulfilling missions to ensure combat duty and nuclear safety, in the line of the chiefs of the engineering troops of the military districts in 2012, the Strategic Missile Forces already supplied about 20 units of engineering equipment, and by the end of the year delivery of another 40 units as well . This will make it possible to increase the supply of military units of the Strategic Missile Forces with engineering weapons to 45%.
Military units of the Strategic Missile Forces will receive bulldozers on an army tractor, trackers on a wheeled tractor, universal minelayers, bulldozers, excavators, regimental digging machines, sawmills, automobile cranes and various electrical equipment.
Also, with the active participation of officers of the engineering service of the Strategic Missile Forces, the introduction of promising engineering weapons to the troops to increase the maneuverability and survivability of new combat missile systems is being carried out. These are, first of all, engineering vehicles, remote clearance, masking equipment, etc.
In particular, the delivery of engineering equipment and masking tools to the Teikov missile compound, which began with 2009, led to the introduction of new methods of hiding and imitating mobile-launched missile systems that are on combat duty. This, in turn, made it possible to reduce the human labor costs for this task tenfold.