Heartbreaking stories about the fatal lack of competence of the Armed Forces of the Russian Federation, regularly published on the websites of some publications, suggest some reflections on the background of this alarmist campaign.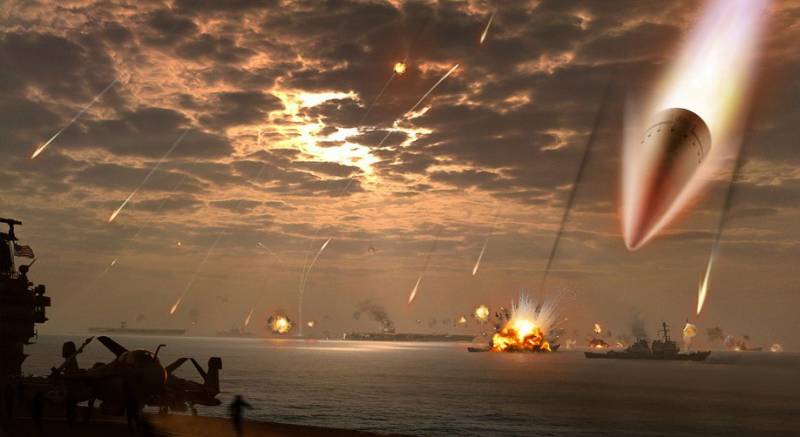 In that part of modern journalism, which is naturally not such, for it is a common business product, the headline plays about the same role as packaging on any other product. Than it is brighter and catchy, the more nonsense and useless content can be. Of course, this is a banal reader hoax. But since up to 90% of citizens in news media read only headlines, this is no longer just a hoax, but technology. And very effective.
One such technologist wrote a completely self-selling headline: "Russia's Black Sea Fleet is powerless to resist the US Navy" - and can safely run to the cashier to take a queue for a higher fee. Because there is no doubt: they will surely notice such a fragrant sensation. Most likely, the article itself will not be read, for "many bukaf". But the furious headline in the subconscious will surely sit down. So, the editorial assignment is done: Russia is again in losers, and America, by itself, is a champion!
I am one of those few who sometimes read such "text words". Firstly, the old editorial sourdough affects, and secondly, it is always interesting to understand why they write this and where their legs grow from. In this, not the first such case, I already knew about what to expect. And, as it turned out, was not wrong.
The article turned out to be quite a junk-level, made up of different kinds of "authorities" on occasion of quotations, the common denominator of which was that they had served somewhere.
But why did the author of this, if I may say so, the article, or the experts themselves decided that this was sufficient reason for the boundless alarmism in the style of "Chef! Everything is gone! "I personally do not understand. Even a little bit literate schoolboy knows that the correct answer only happens when the question is correctly posed. Here, initially, the problem is indicated in such a way that it is not necessary to wait for a correct answer.
"... the main problem of the Black Sea Fleet and its Mediterranean squadron is the" most acute lack of striking power. " "Corvettes alone, large amphibious ships, floating workshops, tankers and tugboats cannot be won over much ... To withstand the Sixth
the fleet
"The US needs to create at least some sort of threat to its missile cruisers and aircraft carriers."
Suppose that the Black Sea Fleet in its current composition is not really able to withstand the US Navy. And what follows from this, gentlemen "military experts"? Yes, absolutely nothing! Because any military person knows - it all depends on the general conditions and specific circumstances of the use of any
weapons
and military power in general. What is this problem with solid unknowns? With which part of the US Navy is the Black Sea Fleet compared? Where will he be at this time? What forces to ensure his combat activities will be attracted? Dozens of similar questions turn around in my head, without obtaining competent answers to which there can be no question of any substantiated verdict about the incapacity of the Russian Black Sea Fleet. Alas, nothing similar to such answers in the article is even close.
But there are speculations that the American 6 fleet is such a thunderstorm and power that the Russian Black Sea Fleet there is simply nothing to do:
"The US Navy Sixth Fleet (and he is responsible for the Mediterranean basin), including a squadron of four destroyers of guided missile weapons (URO). In the Mediterranean, this fleet has a carrier-based strike force - an atomic strike aircraft carrier plus two missile cruisers and two destroyers URO. The main forces of the Sixth Fleet are supported by an amphibious amphibious group with corresponding ships and, most likely, two submarines with Tomahawk missiles.
In fact, the US 6 fleet on a permanent basis includes only one ship, which can only be called a combat unit. This is a staff vessel of the commander of 6-m fleet "Mount Whitney", which has no large-caliber guns or missiles. All the rest is seconded forces that arrive in the Mediterranean Sea and depart from there depending on the military-political situation. For example, now there is not a single American aircraft carrier. And, accordingly, there are no numerous cruisers, destroyers, nuclear submarines and the like that are included in his escort. A group of amphibious forces of the United States literally just passed through this area in transit to the Persian Gulf.
Well, with whom are you currently ordering to measure the forces of the Black Sea Fleet? It can not be so good gentlemen! Why is it necessary to fit the answer-heading, which is already ready and clearly aimed at demoralizing a mass audience to the equation with all unknowns? Who told you at all that the Black Sea Fleet is going to fight with the American? Yes, and in splendid isolation? Why do you think so? And even if he does, is he alone like a finger and in such a lonely form will he resist the American fleet?
By the way, since the article deals with our naval "illnesses" in connection with Syria, I will say the following. Somehow it turns out that, despite the "weakness" of the Russian Black Sea Fleet, it is he who controls the shores of Syria today, and not the supposedly all-powerful America, which certainly would have wanted to. And it controls not by itself, but as part of the whole group of Russian troops stationed there. Which, in turn, rely on the full power of the Russian armed forces. Here is a multi-level gun matryoshka turns out!
And in general, Russia, thank God, there is a lot of things that sober any aggressor, including the United States. Just yesterday, she didn't seem to have any hypersonic Daggers. And today they are! And who told you, dear, such a lie that they are not yet combat-ready and in small quantities? You have no such information and can not be! Because this information is not your level of access.
But even one combat-ready MiG-31 with the Dagger is already guaranteed to be a minus one American aircraft carrier. Just because no one has protection against such weapons. And besides, in the event of war with America, no one will save on tactical nuclear warheads.
And such accelerated means of sending the American fleet to the bottom of the sea at the disposal of the Black Sea Fleet, if necessary, can be dozens! But there is also a whole fleet of heavy long-range Tu-22М3 bombers with the latest modification of the X-32 anti-ship missile, the actual range of which is also unknown to the general public, but clearly exceeds one thousand kilometers. And also multi-purpose submarines with "Onyx" and "Granit" missiles, specially created to combat large sea targets. And it does not matter that they are not listed as part of the Black Sea Fleet itself! These submarine cruisers are already acting in his interests today.
And how, then, to consider the ratio of the forces of the Black Sea Fleet and its American "partners"? Yes, of course, that in any way! Because there is no war at all and no correlation of forces at all. Otherwise, it is possible to go as far as comparing the Black Sea Fleet with the interstellar fleet of the "Galactic Empire". Also, there is a certain likelihood that it is somewhere there - "in a distant galaxy", floating among the stars and bearing unkind intentions.
In the article, a whole paragraph is devoted to the problems of the cruiser "Moscow", which really needs repair. And therefore, they say, the Black Sea Fleet will long remain without such a powerful ship. But for some reason, none of the experts "dawned on" that, in the event of real need, Russia could easily replace this ship with a single-type combat unit from another fleet - the Varyag missile cruiser with the Pacific Fleet, which, by the way, had repeatedly carried out combat service the shores of Syria. Or recently repaired RK "Marshal Ustinov" with the Federation Council. And since the ships of this class are not catching up now to the Syrian coast, it means that from the point of view of the military-political leadership of the Russian Federation, there is no real operational need.
Everything in this life, and even more so in military strategy, depends on the specific tasks and the forces and means involved in solving them. And, of course, no one will send the Black Sea Fleet to certain death, giving its single frigates and corvettes to be devoured by the entire American fleet.
Not to mention that in this alarmist article, which is almost entirely composed, in addition to the all-propal intonations, of good wishes on the topic "you need to build as many good and different ships as possible", there is not even an attempt to recall the truly fundamental things. Which make unpardonable stupidity any attempt at an arithmetic comparison of the Russian and American fleets.
How can one completely ignore the fact that the Russian Federation, unlike the US ocean power, which is vitally dependent on sea communications and therefore historically staking on a huge navy, is the largest land, Eurasian power? And, according to its status, it is interested, first of all, in ensuring its security on land, that is, in a powerful land army. Moreover, the coastline of Russia, practically throughout its entire length, is arranged by Providence in such a way that makes it extremely difficult for a potential enemy to use large aircraft carrier and amphibious units in the immediate vicinity of the Russian coast without the risk of unacceptable losses for it.
That is why it is impossible in the style of "Take it out and put it!" To paint in such articles what else, "for complete happiness," the Black Sea Fleet lacks the same:
"It is necessary to upgrade cruising level ships - about 10 such ships, ... Both new cruisers and large anti-submarine ships, landing ships of the first rank, new minesweepers (considering the issue of mine danger) are needed ... Updating the anti-submarine
aviation
and other types of aircraft and helicopters - at least 100 combat units. Another important issue is infrastructure. The Black Sea Fleet needs new berths, new storage bases for weapons and equipment, and new equipment for the marine corps. "
Of course, none of the patriots of Russia, including myself, is not opposed to the fact that the Black Sea Fleet of Russia tomorrow, or even better yesterday, received all of the above and could cope with even the entire NATO fleet with one left. In general, it is better to be rich and healthy than the poor and sick. And build at the same time and in maximum quantities and
Tanks
with guns, and cruisers with aircraft carriers. But then the country is definitely not enough money. Therefore, smart people came up with the priorities of military development. Which, unlike amateur Wishlist, precisely balance the state's capabilities with its primary defense needs. And if you try to talk about the shortage of ships not from these positions, but simply by the principle of "who likes what", then this, sorry, is not even babble, but something worse.