1500 militants and 6000 family members will be evacuated from Harasta to Idlib. In Aleppo, pro-Turkish groups captured 18 YPG fighters. Reports about it
FAN
with reference to Syrian sources.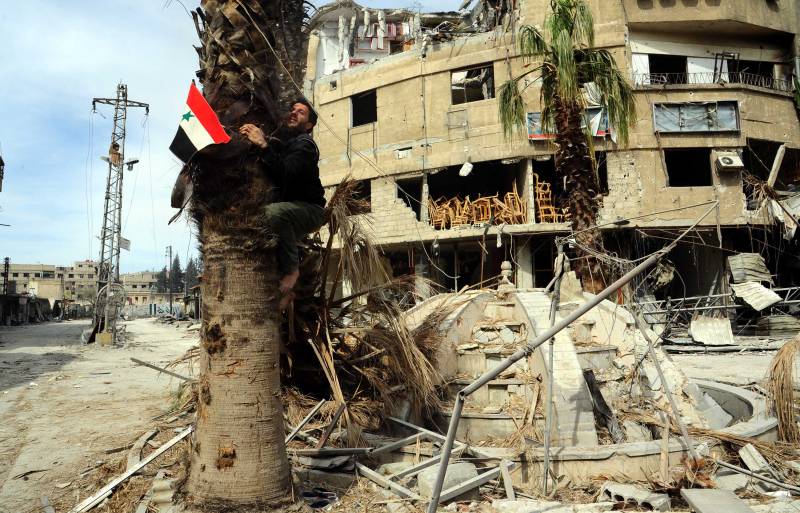 Members of illegal armed groups again attacked Damascus. Militants fired on the Al-Abbasin district of the Syrian capital, which led to a fire. The Syrian Arab Army (CAA) continued to advance in the Ain Tarma area. In addition, the Syrian air force attacked the strongholds of the radical opposition groups in the vicinity of the settlements of Arbin and Hazz. Meanwhile, the first buses with militants of the armed opposition left Harasta. Recall that the leaders of the formation concluded an agreement with the UAR government forces, in accordance with which the group surrendered its positions in the city and was given the opportunity to evacuate to Idlib. In the near future, Gutu will leave the 1500 militants and 6000 members of their families.
In the northwestern suburb of Afrin, militants of pro-Turkish groups discovered a system of underground tunnels of the Democratic Forces of Syria (SDF). According to Fars News, several hundreds of them were found in the caches.
weapons
and ammunition manufactured in the USA. The Syrian Free Army (SSA) captured the height of Al-Ahlam from the SDF south of Afrin, and the Kimar and Barad settlements also came under the control of the SSA. Also, a local source said that the inhabitants of nine villages located in the vicinity of Afrin, issued to the pro-Turkish militants 18 fighters of the Kurdish YPG units.
The Russian Aerospace Forces attacked the positions of the Jebhat al-Nusra terrorists (banned in the Russian Federation) in Idlib province.
Aviation
attacked the strongholds of the radicals in the vicinity of the settlements of Sukake and Kafb Batykh in the south of the region.
Russian aviation together with the Syrian air force attacked the locations of the Al-Nusra terrorists in the vicinity of the settlements of Kafr Zeta, Al-Janabir and Tal-Sahr in the northern province of Hama. In turn, the Syrian Free Army (SSA) attacked the location of government troops near the city of Salhab. It is reported about the destroyed bulldozer of the Syrian army.