The American company Raytheon has developed a promising buggy with anti-thrust laser. During tests, close to combat, 12 unmanned aerial vehicles were shot down using a laser.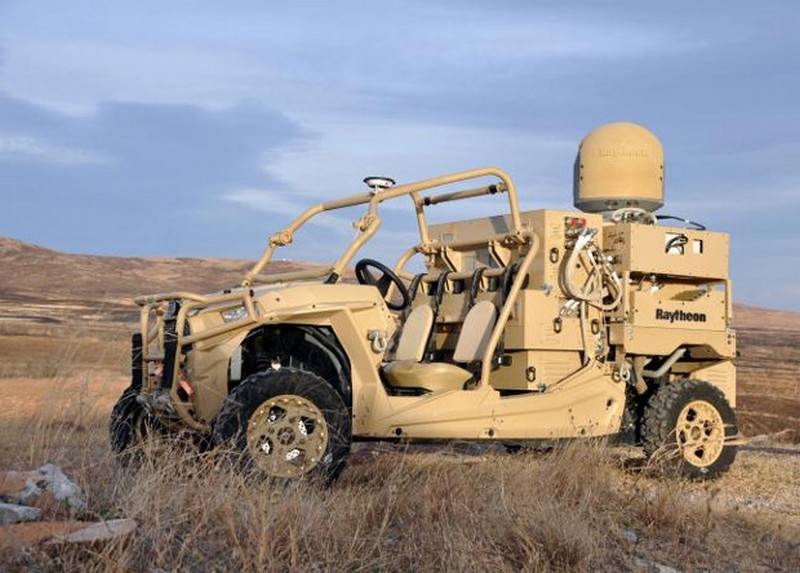 According to the developers, the new combat vehicle was created based on the Polaris MRZR buggy. This is a lightweight four-seater SUV that is 3,6 meters in length, 1,5 meters in width and 1,9 meters in height. The car is equipped with a 88 powerful gasoline engine with a volume of 875 cubic centimeters.
The MTS multispectral sighting station with optical-electronic and infrared cameras, as well as a laser module with an optical system, are installed on the buggy. Details about the power of the laser system and the power supply system used are not disclosed.
During exercises conducted by the US Army at the Fort Sill base site in Oklahoma, the buggy was actively moving around the landfill and was laser-fired at all the detected "enemy" UAVs. In total, 12 drones of the first and second classes were shot down with the help of a laser.
The first-class vehicles include drones weighing up to nine kilograms, capable of flying at altitudes up to 365 meters at speeds of up to one hundred knots (about 185 kilometers per hour). The second class includes devices weighing from 9 to 25 kilograms, capable of flying at a height of up to one thousand meters, reports portal "N + 1"