24 civilians in Damascus died under fire from militants. Terrorists have launched a training camp in Deir ez-Zor. Reports about it
FAN
with reference to Syrian sources.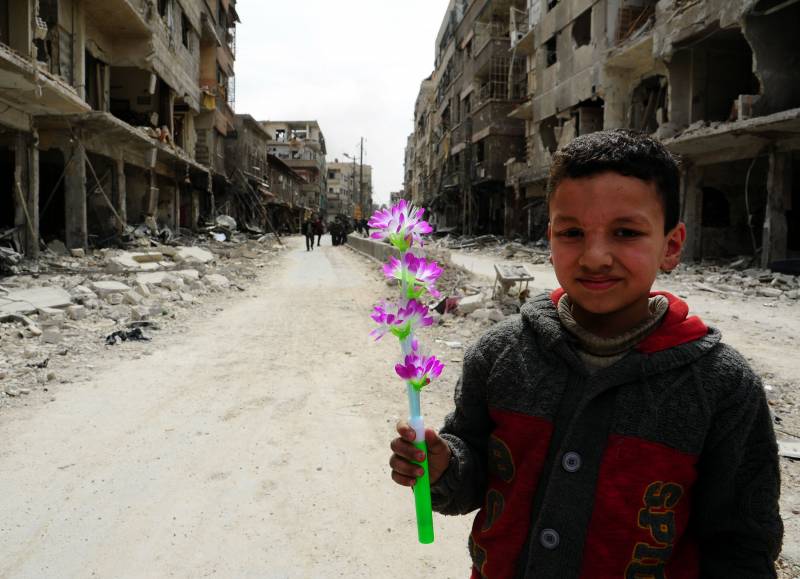 East Guta, 19 March 2018
The Syrian Arab Army (CAA) freed more than 80 percent of the Eastern Guta oasis from the radicals. The fighting areas have left thousands of civilians in 79. Government troops have advanced significantly in the area of ​​Ain Tarma, from the air, the operation to liberate East Guta is supported by the Syrian air force. Militants of illegal armed groups re-opened fire on the Syrian capital. Under the fire of radicals, a 24 man died, and 32 civilians were seriously injured.
In the morning, the command of the Syrian Democratic Forces (SDF) announced its intention to evacuate from the territory of Afrin (Aleppo Province) half a million civilians to protect the population from the aggression of pro-Turkish militants. Earlier, the SDF prevented civilians from leaving the city. In addition, leaving Afrin fighters Kurdish militia mined neighborhoods and residential buildings. Breaks home-made devices have already caused the death of seven citizens. The Ankara-controlled Syrian Free Army (SSA) captured the Ain Dara, Kurzichl, Kady Ruheil, Basuta settlements from the SDF and took control of the Kokha and Silo settlements, which allowed them to block the road between Afrin and Raju.
In the territories occupied by the Democratic Forces of Syria (SDF), the province of Deir-ez-Zor, near the border of Syria and Iraq, an IG terrorist training camp has been established (the group is banned in the Russian Federation). In the same part of the region, the construction of a new US military base began. A large number of weapons and equipment, including missile systems and bridge crossings, are located in the area of ​​the Al-Omar field.
The Russian Aerospace Forces conducted a series of attacks on the strongholds of the Dzhebhat an-Nusra terrorists (banned in the Russian Federation) in the south of Idlib province. The positions of Islamists in the vicinity of settlements of Khan Sheikhun and At-Tamaniya were attacked.
In the northern part of the province of Hama, the Russian Aerospace Forces attacked Al-Nusra strongholds in the vicinity of Al-Latamin and Kafr Zetas. In turn, the CAA was shelling the positions of terrorists in the area of ​​the Sarmania settlement.