Russia had two misfortunes: roads and fools. And then came up with artificial intelligence!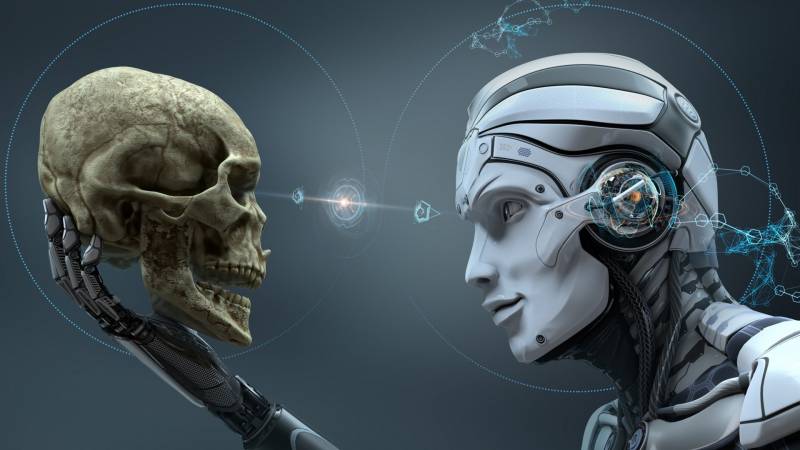 Nobody invented artificial intelligence on the instructions of officials whom Nikolai Vasilyevich mentioned in his aphorism. The development of automation and programming has come to a level where artificial intelligence can to some extent replace the main human organ.
Replace not immediately, evolutionarily, starting with those areas where laborious and error-free work with large data arrays, Big Data, is required. This path is fraught with difficult predictable consequences for both sides (artificial intelligence, then AI, we will be considered as a "party" without discussing the degree of its usefulness for various groups of criteria).
Today, AI is used in the most accessible for implementation aspects.
Unmanned vehicles
. From available sources, for example [1], it is known that during the operation of people in the United States, 1,3 recorded deaths during an accident on 100 thousands of miles. Tesla unmanned car brought only one accident for 130 thousands of miles. The other day, Uber unmanned aerial vehicle also committed its first fatal accident. At the same time, on the account of an electric vehicle running the AI, there is at least one life saved - the car delivered the owner with a heart attack to the clinic.
Medicine
. AI is able to diagnose diseases in the early stages, when the symptoms are so minor that they escape the attention of the doctor. The IBM-owned Watson supercomputer refines the diagnosis of patients with additional diagnoses in 30 percentages of examinations. This supercomputer is available to any application developers who require working with Big Data.
Pattern recognition
. Domestic company NTechLab launched in Moscow and St. Petersburg facial recognition system. System performance 2,0 billion images per second. In this case, the system identifies a person in bad weather, at night, and even by a fragment of his face, uses photos from various sources, from special and own databases to any social networks. In Moscow, the network includes 160 thousands of video cameras and covers 95 percent of apartment building entrances. A similar system is booming in China.
AI can not only recognize faces, but
register human emotions
, which is effectively used in the fast-growing segment of the advertising market - neuromarkering.
AI, according to Microsoft, is capable
recognize human texts and speech
better than himself.
AI is used for
forecasting
. Facts about the prediction of US election results are well known - Indian start-up MogIA in Mumbai confidently predicted Trump's victory. Another example: Artificial Intelligence UNU was able to successfully predict the four winners of the prestigious equestrian competition, moreover, strictly in the order of their finish. No official expert in this competition has been able to do this - so the computer won with a 540 rate for 1 [2].
In the UK, AI is used to
catching corrupt officials
. We present one of the illustrative examples in more detail. British Serious Fraud Office, Bureau of Grave Economic Crimes suspected Rolls-Royce and its Indonesian customers of corruption. Tommy Suharto, son of the ex-president of Indonesia, received $ 1990 million from the company's management and a Rolls Royce car in 20. And in exchange, the national airline Garuda purchased from Rolls Royce
aviation
engines. Pay attention - they became interested in the case 22 years later. To help investigators, a cyber-detective developed by the London-based firm RAVN Systems was used.
AI RAVN ACE was used for sorting and classifying documentation, preparing its summary. AI did an excellent job with the task, sorting out 600000 documents per day. As a result, he helped human detectives process 30 of millions of documents, sorting them into "priority" and "non-priority" according to how relevant they are.
It is clear that to process such an array of data to a person, and even to a brigade at a reasonable time, is not under force. And thanks to the RAVN ACE system, the case was successfully completed. Rolls-Royce pleaded guilty and went to a settlement in a pretrial order (the company will pay a fine of 497 million pounds). So that AI can give a good income to its owner [2].
AI learned to recognize potential suicides.
Scanning showed: the brain of potential suicides reacts in a special way to certain words. Using this data, artificial intelligence was able to calculate the possible suicides in 91% of cases [3].
Examples of the use of AI in various fields can already be found in a huge number, for example, in [3]. AI is used in defense technologies, forensics, speech technologies, etc. AI taught to write software for themselves, to teach another AI. And even gay people got angry at the attempt to determine the sexual orientation of a person from a photo [3], and the Russian government proposed using AI in the courts.
Despite the harsh criticism in the discussion process on the forum, I argue that the introduction of AI is useful, including for the judicial system. Here are just two illustrative examples.
According to domestic media reports, car owners who sold their cars ran into an unexpected problem. They receive fines from the traffic police for violations committed by the new owners. There are examples when the amounts of fines reach 300,0 thousand rubles! But the courts, in which former car owners apply, deny them claims for recognizing the accrued fines as illegal on the basis, for example, of the fact that "there is no evidence of the validity of the contract of sale" (?).
Of course, first of all the legislator is guilty here, who has not calculated the consequences of adopting the rule on the non-obligation to de-register a car before selling it. They did not take into account the human psychology and the new car owners, using this "hole" in the law, do not register the purchased car in their own name. Therefore, violating traffic rules, they go unpunished, and the former owners of cars have to pay fines. If the lawsuits dealt with AI, then he would find reasonable arguments for bringing to justice the real violator of traffic rules.
Another glaring example. The film actress Elena Kudryashova was denied a pension, not recognizing her work in the Sverdlovsk film studio during the shooting of the film "Eternal Call". The court was guided by formal documents. But neither in the Sverdlovsk film studio, nor in the State Film Fund there are no papers on the work of the actress in this film. And now, in order to receive a pension, she does not have exactly the two years whose details have been lost. It would seem that it could be easier - they requested a film with a film, watched the captions, the identity of the actress in the frames and everything is clear. But the film, it turns out, is not an argument for the court, even though it has the status of a work of art, which means it has rights to the results of creative activity.
There are already thousands of examples in the refusal of granting a pension in the country, but so far no one is in a hurry to restore justice, since the "human" court is guided mainly by the primary documents of the inquiry, in any case, this is the case in Russia.
Above, an example was given about the use of AI RAVN ACE in the legal field by British detectives. This is an example of what the AI ​​can create in order to establish the truth. And in the examples with unjustifiably charged fines, and in the example with actress E. Kudryashova, the AI ​​could very easily make a fair and informed decision on such cases in a couple of seconds, examining thousands, tens and hundreds of thousands of arguments to form an evidence base. So why does anyone think that AI should not be allowed to the judicial system?
Similarly, an intelligent video surveillance system. Many criticize this system for the fact that people lose their freedom while under the watchful eye of the control system. This is partly the case. But you can bring other arguments.
You are being watched. For every step. Owners of operating systems installed on your PCs and wearable gadgets do this. Even if you change the SIM card, you will be recognized instantly, for example, by voice, by face and even by gait. One can only guess where information about the owners of electronic assistants is transferred.
Owners of modern smartphones should understand that any information related to them and the environment continuously and invisibly flows to the servers of owners of operating systems. This is the time of your sleep, and the places where you are, what you say and what you are doing, what you are working on, what you are buying, where you are transferring money (even if someone guarantees you the secret of a transaction), with whom and what do you correspond with often go to the toilet, how your stomach grows, what is the frequency of your breathing, the nature of your heartbeat in different situations, the routes of your movement, etc. etc. This information is automatically analyzed, sorted and sent to "who should." "Observers" help their self-made self-help, for which they inserted front-facing video cameras into smartphones. So you can more accurately determine your abuse of sugar, salt, alcohol, tobacco, etc.
"There" will know everything about your habits, diagnose your health, predict, if necessary - how much you have left to live, learn commercial and non-commercial secrets and secrets, know where and when you can be met and in what mood, how many money and where they are stored ... Valuable information about your successes in creative work, inventions will be sold to interested corporate corporations, state secrets - "who need to", compromising materials will also find their interested party.
If you ask - how does the author know all this? I will answer - I would do that, too, because modern software and hardware have such capabilities. The notorious "polygraph", which the curious TV crews adapted for pumping out money in the next shameless show, is outdated - the emotion recognition systems solve the same problem in a fraction of a second and unnoticeable to humans.
Once, as the head of an IT company, I came to a wealthy man, almost an oligarch, to ask for investment in the development of a domestic mobile platform, justifying such a need precisely by the likelihood of surveillance. But he was refused - it turns out that he absolutely doesn't care that someone is watching him. According to him, he does not do anything illegal or immoral. Here is the answer. Behave within the law and decency, and no one, even artificial intelligence, will be held accountable. Do not be like a former ballet dancer who has lost her human appearance.
Without any doubt, the problem of artificial intelligence will be increasingly acute in its relationship with man. About this there are warnings not only science fiction writers. Already in our time, Stephen Hawking, Ilon Musk warned mankind about the danger posed by the introduction of artificial intelligence. But Ilon Mask himself is actively implementing AI in his projects.
Whatever critics say, scientific and technical progress cannot be stopped. It can only be slowed down, as the medieval Inquisition did, burning scientific works together with the thinkers. However, mankind went into space, created a modern scientific and industrial complex of civilization and continues to go further.
Now let's ask ourselves: "WHERE?"
It is obvious that for the safe use of AI, legal and instrumental regulation at the level of international standards is required. However, judging by how today the developed states belong at least to international law, this is unlikely to be possible. Each of the competing parties will try to create advantages for themselves due to the wide use of artificial intelligence.
What can oppose him? Only artificial intelligence, which is comparable with him in his power. Can the opposing cybernetic machines agree among themselves to destroy a person when he gets in the way? Answer: "They can with probability close to one."
Question: "When can the point of no return of the death of a civilization come in confrontation with machine intelligence?" Answer: "When artificial intelligence" saddles "the global blockchain in order to organize distributed computing in its own interests (on the same video cards that miners cryptocurrency use), and also with the introduction of quantum computing instead of modern supercomputers, although they are useful in local problems of AI, for example, to capture the global Internet of things. This fact lies on the surface, it is not even necessary to patent it. Remember SkyNet from the movie "Terminator".
What can interfere with lightning fast, by
historical
measures, the introduction of artificial intelligence, blockchain, the Internet of things and quantum computing in our reality?
Consider the issue from the standpoint of a systematic approach. This approach involves the synthesis of all options available for creativity.
A) Suppose that in relations between competing developed countries and their groups nothing changes. Then the course of events may be as follows:
• There will be an "Iron Curtain" with absolute blocking of communications with the global Network and the adoption of a set of measures to prevent penetration into the national separate Network. Most likely, this time the "iron curtain" will be lowered by our "partners" in coexistence on this planet. They, of course, will not leave us alone and will do their best to destroy by any means and means.
• There will be no "Iron Curtain", but there will be a gradual escalation of the confrontation into local clashes, and then a global conflict, i.e. The Third World War with the complete destruction of artificial intelligence, blockchains, the Internet of things and quantum computers, together with their creators. By the way, it is this option that can serve as a reason for eliminating a person with artificial intelligence.
• AI will not have time to destroy a person and the Third World will come. In this case, only physically healthy individuals adapted for hard labor will survive. And everything will start over. Those who dug themselves comfortable bunkers in case of World War II and stock up with all kinds of resources and
weapons
, will not last long - they will be swept away by new human mutants in the struggle for survival.
B) Suppose that world political players will come to their senses and leave their dreams of world domination over the planet and abandon the concept of the "golden billion". Then:
• Specialized government departments and developers of developed and all other countries will agree on AI standards, software and tools for AI control, and create, for example, within the UN, a special competent authority with broad powers regarding the use of AI.
• However, there will always be criminal structures that will want to use AI in their own interests. Therefore, it will be necessary to create a cyber police with highly specialized artificial intelligence with broad powers, for example, under the auspices of Interpol. Then the talk about the "Russian hackers" will stop.
It should be noted that for option "B" there are no unambiguous positive outcomes. It is possible that after some time, the situation for option "A" may resume for various reasons. Then the option "B" just delay time "H".
C) Suppose that the Higher Mind exists. Will he save our current civilization? There are no options here. The Higher Reason does not interfere in the course of the history of its creation, since it has provided the human mind with freedom of choice of its fate. And he will not drag anyone by the ears to his happiness. Otherwise, the principle of systemic evolution of the worlds, in which the most viable intelligent race survives, will be violated. Perhaps He can save someone who believes in him and hopes for him, but at the same time he is powerless in front of the world civilization system. But not for reasons of "value" of any individuals - the Higher Mind is self-sufficient, but only for the motives of mutual love. For the vast majority, options "A" and "B" remain.
Epilogue
The difficulties of introducing something new always meet with resistance, be it the established preferences of society or a new software that needs to be integrated into the existing technological process. And even invented once for chopping wood, the ax very quickly found application both as a cold weapon and as an instrument of crime. But nobody refused the ax.
Also, no one will give up on artificial intelligence. And the consequences of its introduction can be both positive - it will expand the individual consciousness to unimaginable limits, as well as disastrous for humans, as a reasonable species in the Universe. It all depends on our ability to tolerate each other, understand each other and help each other in the name of the common goal of survival in the current dangerous conditions of technological progress. After all, no one has yet officially brought such a danger to the international level of discussion, and only some advanced minds of mankind warn about the danger of artificial intelligence.
For Russia, there is hope that the country's top leadership, in particular V.V. Putin understands both the importance and the risks associated with the introduction of artificial intelligence in our time. 1 September 2017, at a meeting with schoolchildren in Yaroslavl, he said: "Here there are tremendous opportunities and difficult to predict threats. The one who becomes the leader in this sphere will be the lord of the world, and I really would not like the monopoly to be concentrated in one hands "[4].
1. http://turvopros.com/samyiy-bezopasnyiy-vid-transporta-statistika/
2. Gosvopros.ru/ http://gosvopros.ru/job/professionalnyee-navyki/ravn-ace/
3. http://newsoftheday.ru/n1iskusstvennyy-intellekt-nauchilsya-obhodit-zaschitu-ot-botov.html
4. https://riafan.ru/947508-putin-lider-v-sfere-issledovaniya-iskusstvennogo-intellekta-stanet-vlastelinom-mira