The Ukrainian military prosecutor's office announced the beginning of criminal proceedings against a serviceman of the Armed Forces, serving under the contract. The agency said that the contractor is suspected of involvement in the sale of elements of the dynamic protection system of armored vehicles. It's about a security system
tanks
"Knife".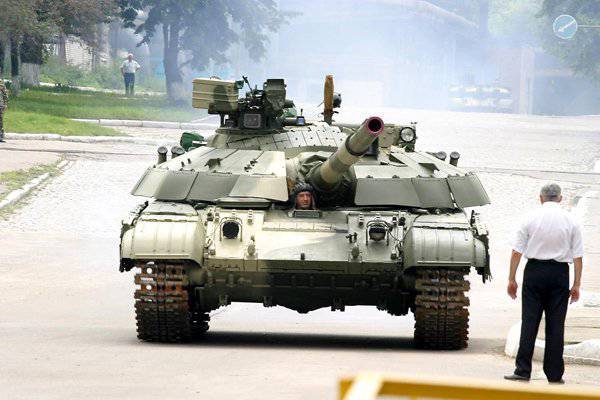 The modular complex of dynamic protection 3-generation "Knife" was adopted by the APU in 2003 year. Produced (manufactured) in Kiev, as well as in Donetsk (at the Donetsk Chemical Products Plant).
The protection system "Knife" in 2011 was supplied for export - for the armed forces of Ethiopia, in which they stated a few months later that the characteristics of the Ukrainian "Knife" "do not quite suit them." This complex of dynamic protection for tanks is also criticized in Ukraine itself. Participants in the fighting in the Donbas note that the "Knife" is not sufficiently effective even from those anti-tank complexes that began to be produced several decades ago.
From the press service of the Ukrainian military prosecutor's office:
The detained driver of a tank company took off and sold (...) for 11 thousands of hryvnas 32 linear cumulative charges with an explosive, weakening the combat capability of the tank unit.
Now, a serviceman is facing a real term under the Criminal Code of Ukraine "Abduction, misappropriation of servicemen
weapons
, military supplies, explosive or other military substances, military and special equipment or other military equipment. "
Who was the buyer of the "Knife" is not reported.