As a result of the bombings laid by the Kurds in Afrin, civilians were killed. The terrorists resorted to a suicide bomber attack northeast of Damascus. Reports about it
FAN
with reference to Syrian sources.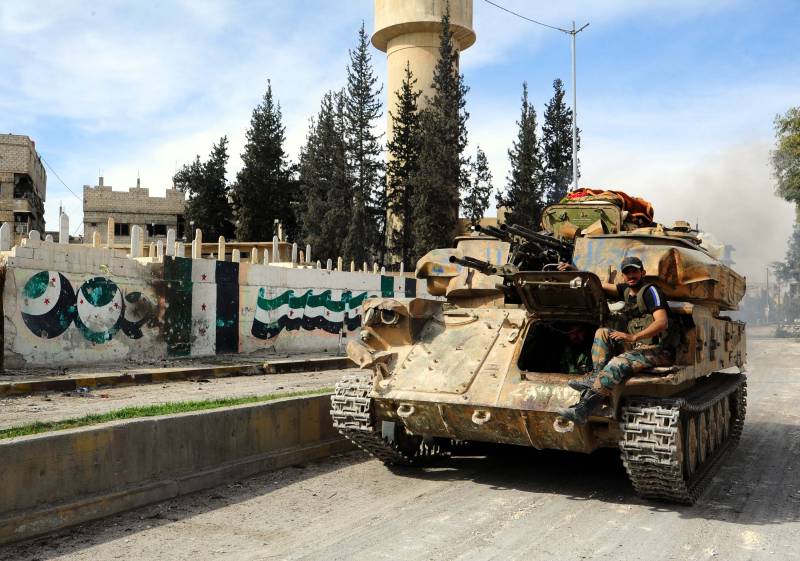 During the day, fighting between illegal armed groups and the government army continued to the northeast of Damascus. Radicals briefly managed to seize several buildings on the outskirts of the village of Duma, but later they returned under the control of the Syrian Arab Army (CAA). In addition, CAA units occupied several farms and a laboratory on the outskirts of the village.
Humanitarian aid arrived in the city of Sakba, which was in a catastrophic humanitarian situation. Civilians reported that the militants did not care at all about providing Syrian citizens with food, but, on the contrary, confiscated food from those who refused to fight on the side of jihadists. On the eve of the Eastern Guta, more than 6500 people left. Meanwhile, Islamists "Dzhebhat an-Nusra" (banned in the Russian Federation) attacked the strongholds of the SAR forces, engaging a suicide bomber in a mined car. However, according to military sources, Syrian troops suffered no casualties.
Last days, another Turkish military convoy arrived in Aleppo. The military occupied territories northwest of the regional capital, not far from the neighboring province of Idlib. The reinforcements arrived to create strongholds to monitor the observance of the regime of silence (Turkey is the guarantor of the truce in Idlib). Meanwhile, it became known that before leaving the city of Afrin, Kurdish troops mined the entire town and its environs. The explosions of the mines laid by the Kurds led to the death of not only 13-ti fighters of the pro-Turkish "free army", but also seven local residents. At the same time, about 20 Syrian citizens were injured.
The Syrian Air Force conducted combat missions throughout the day in the eastern part of the province of Dara after the announcement of al-Nusra about its readiness to launch an offensive against government forces. Under the blows of the Syrian
aviation
the fortified areas of the radicals found themselves on the outskirts of the settlement of Busra Al-Hariri, from where the militants intended to attack the city of Isra.
In the south of the province of Idlib continued air attacks of the Syrian Air Force and the Air Force of the Russian Federation. According to the information, targeted air strikes fell on the fortifications and military equipment of the terrorist coalition on the outskirts of the settlement of Al-Hibat, as well as not far from the city of Khan Sheikhun.