The Foreign Minister of Ukraine said that he had proposals for "putting pressure on Russia." In an interview with German media
Deutsche Welle
Pavel Klimkin noted that pressure on Russia is possible only in the case of "consolidation of the world community".
From Klimkin's statement:
Five years ago, people did not believe that Putin could invade Ukraine. A year ago, many did not believe at all that Russia could organize a crime using nerve agents (gases) on British soil. Therefore, there are no red lines in principle for Russia.
Everything is as usual. There was no and no evidence of the use of nerve-gas gases by Russia in Britain (as well as the facts of poisoning themselves), but the disinformation carousel using such as Klimkin has already been promoted.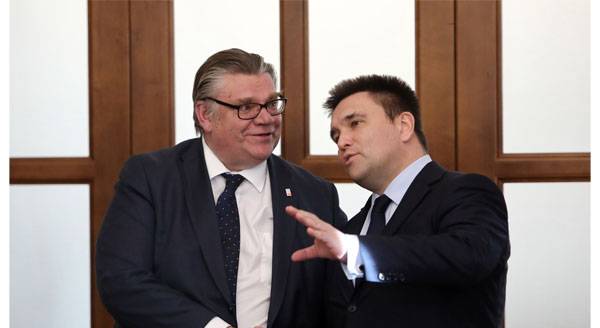 Klimkin added that Russia needs to act together.
Ukrainian Foreign Minister:
We must give a comprehensive and coordinated response. Without such a response, without a platform for the transatlantic community - and I see Ukraine as an important part of this community - Russia will continue to try to interfere in democratic institutions.
It is interesting that Klimkin considers a democratic institution? Is it really an unconstitutional coup d'état in Ukraine, as a result of which he himself was in the chair of the Ukrainian minister?
Klimkin went on to say that the "international community" should support the idea of ​​a boycott of the World Cup 2018 in Russia:
Listen, how can you say that Russia deserves such a football championship, after what happened in Ukraine, Crimea, Donbas, there are so many cases of interference in elections in Europe and the whole democratic world.