Vladimir Putin, for whom voted around 76,7% of Russians who came to the polls, appealed to his rivals on the completed elections. During a meeting with former opponents, the president called on them to join efforts to work for the good of the country.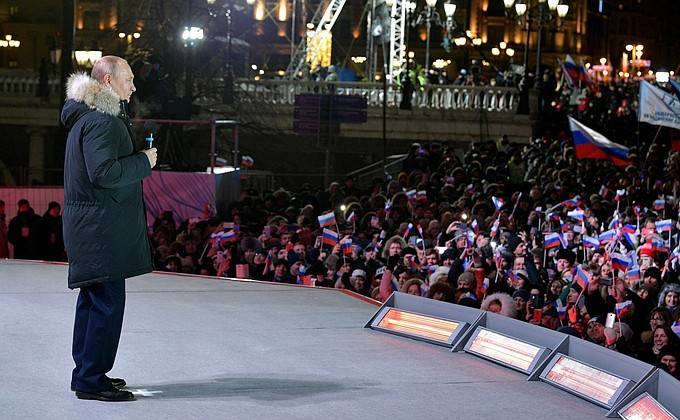 Vladimir Putin during a rally at Manezhnaya Square
The Kremlin press service cites the appeal of Vladimir Putin:
I hope that today we will talk with you about the first thing the campaign was going on and, most importantly, about what needs to be done so that all positive moments (and there were a lot of them during the election campaign) were taken into account in future practical work. executive and legislative branches.

Of course, the election campaign is always a special period, it is always associated with special emotions, and often they overlap, of course. It happens almost everywhere, we are no exception. The main thing is that we have the opportunity to unite efforts in the future for constructive work for the good of the country.
Earlier, Vladimir Putin commented on the future composition of the government. According to the head of state, the composition of the Cabinet will be known after the inauguration.
Recall that the turnout in elections-2018 was about 67,9%. The second and third places were taken by Pavel Grudinin with the result of 11,8% and Vladimir Zhirinovsky, who has 5,65% of the votes.
There are a considerable number of Russian regions in which Vladimir Putin won over 80% of votes. These are the Chechen Republic (91,4%), the Yamalo-Nenets Autonomous District (85%), the Chukotka Autonomous Region (82,3%), the Kursk Region (81,01%), the Tambov Region (81,1%), the Republic of Dagestan (around 90%) and others.