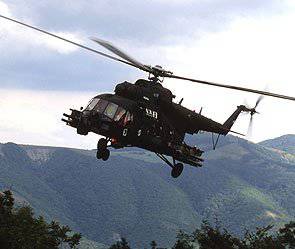 A military helicopter Mi-8MT during a training flight made a hard landing near Khabarovsk. As a result of the incident, the helicopter was severely damaged, and the crew members got off with minor injuries.
A hard landing occurred in 12: 10 Moscow time. "The tail boom was chopped off with screws, the helicopter was badly damaged, it cannot be restored," RIA told
News
source in the power structures of the Far Eastern Federal District. Also, according to his data, Mi-8MT sat two kilometers north of the village of Druzhba. It is noted that there was a spill of fuel, but there is no fire on the spot.
Three crew members of the military machine were slightly injured, they refused hospitalization. At the same time, according to Interfax, only two permanent crew members were on board the helicopter, and the Mi-8MT was under the control of a young pilot. Aviators have first aid. The circumstances of the incident will be investigated by a special commission, its members will include representatives of the district headquarters. The military prosecutor's office has already begun verification.
According to some information, the helicopter platform of the Ministry of Defense is located in Garovka, writes "Rossiyskaya Gazeta". Confirmation of this information is not yet available, but a representative of the headquarters of the Eastern Military District reported that the Mi-8MT helicopter made a training flight, and a hard landing occurred during the landing approach.
Note, Mi-8MT - transport and combat modification of the Mi-8TV helicopter. To combat the ground-to-air missiles, the vehicle has installed systems for dispersing hot gases of engines, shooting off false heat targets and generating pulsed infrared signals. In 1979-1988, this helicopter was used in a military conflict in Afghanistan.