With all the comparative advantage of tarpaulin boots over boots, they have one important nuance, which I once, many years ago, told war veteran Anatoly Tabakov, now deceased. He had a very interesting frontline biography, the brightest part of which was participation in the liquidation of the UPA in Western Ukraine. He talked a lot and willingly about his life and participation in battles, and once he remembered his boots.
"Tabakov: I went to the army in the 1943 year, after FZO. I just turned 18 years. We were accompanied by the whole village. The old men, who went through the imperialist and civil war, taught us the finer points of the soldiers' life. They taught, for example, how to wear boots properly.
I: How is it right?
Tabakov: You need to have two pairs of sisters, preferably three. Always have a piece of soap with you. And footcloths need to be washed every day from the evening so that in the morning you can put on a clean pair. I have always done this, and I have never had problems with my legs. If you rub your leg, then you need to wash it, and if there is fat, then smear the rubbed area with lard. "
Interesting things told me a veteran and an ordinary soldier of the Communist Party. It turns out that footcloths should be washed every day, not once a week. Later, having considered and summarized my own experience of wearing boots, I came to the conclusion that he was completely right.
From the theory of nose holes
It all starts with one of the protective functions of the body - the secretion of sebum, synthesized by the sebaceous glands, located throughout the skin, including on the legs. Sebum is mixed with sweat secretions and forms a thin protective layer that does not allow the skin to overdry, and also the antibacterial barrier matters to a certain extent. Increased sebum secretion is observed in people under the age of 30 years, more often in men, as well as under stress, increased physical exertion, temperature increase, with poor hygiene (oily skin should be washed more often). In general, more severe sebum is secreted, so the body is protected from adverse conditions.
Further, this mixture of sebum and sweat is mixed with dust and dirt, which inevitably, albeit in small quantities, get into the shoes. In the composition of dust and dirt there is always a fairly large proportion of solid microparticles. For example, in air dust, the proportion of quartz (the main component of sand) can reach 40% of all solid particles. Solid quartz microparticles, derived from dust, mixing with sebum, form an excellent abrasive paste, which clings to the fibers of the cloth of the footcloths or socks.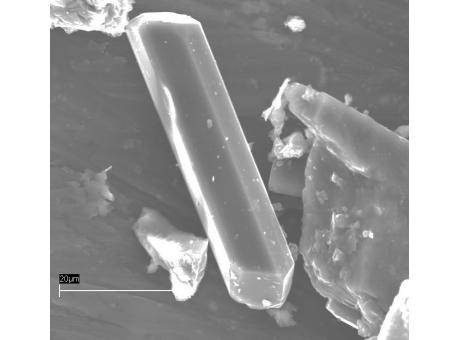 Here so microscopic particles of quartz from tests of air dust look. Very small and very hard crystals - ready abrasive.
When walking, the shoes are constantly experiencing stress, tension and displacement of fabrics of footcloths or socks. If this fabric is covered with abrasive paste from sebum and quartz microparticles, then these solid particles tear and cut the fibers of the filaments. The combination of cuts and the load on the fabric leads to the fact that the threads eventually break.
In this place it is important to note the difference between a footcloth and a sock. The threads of tissue, of course, are torn and burst in both cases. But the sock is a knitted fabric, or knitted, in which the fabric is formed by loops. That is why it is soft and can stretch. But it is enough to burst a few warp threads or broaches, as this knitted fabric begins to creep away and a hole is formed. The footcloth is made from harsh cotton twill, a fabric with a dense weave of warp and weft. Moreover, twill is woven into a diagonal, which gives it greater resistance to tearing. Therefore, for the thread fabric, the breaking of several threads is not terrible, since the neighboring threads hold the structure of the fabric. For this simple reason, the footcloth is much more durable than a sock; it takes a long time to bring it to the holes.
In addition to the footcloth or sock, the abrasive paste mentioned also plasters the skin of the legs, cramming into its folds and pores. Under the influence of loads while walking, the solid particles begin to tear and destroy the skin epidermis, until they break through it, to the dermis - the skin layer in which nerve endings and blood capillaries pass. There is a wound that begins to bleed and hurt. Through it, bacteria enter the skin and blood that multiply rapidly in moist sebaceous paste. Hence, less than half a step to infection and serious illness.
To avoid this, you need to wash off the abrasive paste from sebum, sweat and solid particles, both from the skin of the feet, and from what the legs are wrapped around. This is the meaning of daily washing of footcloths or socks. The less of this greasy-quartz abrasive on the legs and on the toes or footcloths, the less damage to the skin and the less likelihood of a prolonged failure of the soldiers' legs - this most important means of warfare.
Pocket wash experience
As is often the case, what is easily proclaimed is very difficult to accomplish. Performing such a simple recommendation, such as washing footcloths or socks every day, faces many obstacles, such as the lack of or clearly inadequate access to water and detergents, the extreme lack of time and energy for this work. It is good if the soldier is so disciplined that he takes time from his rest, but is washed. However, it is impossible to issue such an important question as daily washing of footcloths or socks, that is, health and fitness for a march and combat of soldier's feet, to be given entirely and entirely only to the mercy of personal discipline of servicemen. Appliances should be developed and introduced to facilitate washing to the very minimum of expenditure of energy, time, water and detergents.
Ideally, it should be a very simple device, so affordable that it can be included in the mandatory set of equipment of each soldier. The most interesting thing that such a device is. This is the so-called. "Laundry bag". The idea is not that new, and probably opened several times on its own.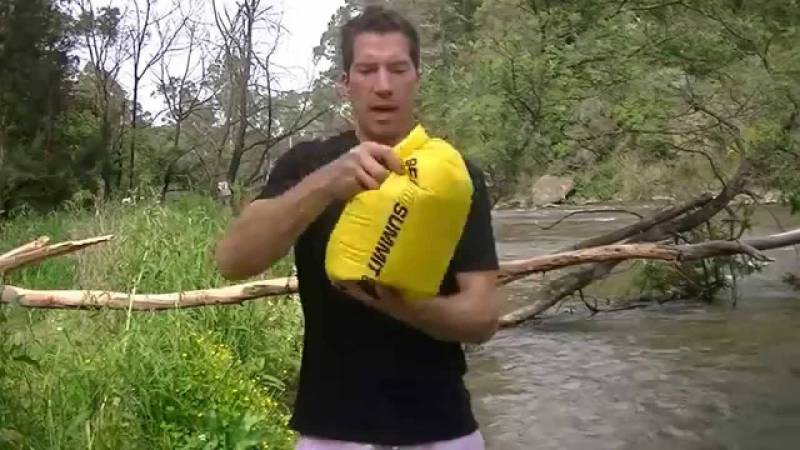 One type of laundry bag in the hands of its inventor, Ashley Newland.
Its essence is to place an erasable item (for example, socks), water and detergent in a bag of sufficient size. Then the bag closes and shakes for a few minutes. After this operation, the dirty water is drained, pure water is poured instead. Again the bag closes and shakes for a few minutes. Finally, the water can be drained, the socks pressed and hung for drying, and the package folded until the next time.
After reading about it, I decided to immediately put the experience and check whether it really is. I found a bag of durable white plastic with a length of 28 cm and a width of 22 cm. It includes 1,6 liters of water, so that the bag can be closed easily onto the linear fastener he had. Socks and about 15 grams of laundry detergent followed.
Package was closed on the clasp. Then I took it by the upper corners and began to shake it. It is most convenient to shake horizontally, side to side, as in this case there is no risk that water will flow out of the bag. After a minute of shaking, the result was obvious: the water turned gray. After about five minutes of shaking, I replaced the water with clean water, shook it up for a couple more minutes to rinse, and soon hung up the washed socks for drying.
What can be noted for this method of washing? First, it is less labor intensive than washing in a basin. Shaking does not burden the muscles of the hands and forearms, and therefore the hands do not get tired. Secondly, the whole operation can be done completely without contact of hands with water and detergents, moreover, practically without smell. Thirdly, the washing does not take any container (basins, buckets, etc.) and does not take sinks washbasins. Since the water from the bag is not spilled, this washing can be done in any room, not necessarily in the bathroom. Fourthly, with this method, water consumption is the lowest. It seems that a pair of socks can be washed in a liter of water, and for a pair of footcloths with a total weight of 320 grams, you will need about one and a half liters.
In general, surprisingly convenient was the way of washing, despite even the improvisation used.
Army washing package
Of course, just a bag of durable polyethylene or plastic is not very suitable for the manufacture of such a washing bag for military needs. It can be used, but its vitality will be relatively low. Polyethylene and other plastics are quickly torn due to frequent tensile deformations that occur when shaking a bag. Let them be small, but if the package is used every day, as it is supposed to be, then soon it will burst and flow.
In my opinion, it is better to make a washing bag of rubberized fabric. It will be somewhat heavier than polyethylene, but you cannot quickly erase it. The chemical resistance of nitrile-butadiene rubber (also known as Buna, one of the most common types of synthetic rubber) is quite enough to make a package of rubberized fabric resistant to alkaline washing solutions.
The bag should have a wide neck, of sufficient size to push through the socks or footcloths through it, but it is hermetically sealed. Tightness is very important. This is the convenience of washing, and the ability to wash outside bathrooms, in any room, and even on the go, on the march. It seems that it is best to use a wide screw cap, used in some types of rubber bags for water. This bag (pictured below) has a neck diameter of approximately 14 cm (with a total width of the bag 18 cm), which is quite enough.
A washing bag with such a tight mouth on the stopper allows you to wash on the march without any effort at all. It is enough to put a dirty thing inside, pour water on it, fill it with washing powder, close it and put it in a backpack. At the next stop, pour out the dirty water, rinse it, and the wash is over.
The weight of such a washing package, depending on the design, volume and material, will be approximately 250-300 grams, which is quite acceptable for inclusion in the mandatory set of personal equipment of each fighter. It can be folded to carry in the pocket of unloading, in a bag or tactical backpack.
Water for washing suits almost any, including from puddles (although it is advisable to give dirty water a little to settle). Any soap is also suitable if it is cleaned, any washing powder or liquid detergent. In the absence of all this, it is possible to wash with the help of good old liquor, which is prepared from wood ash. Lye is convenient not only for ease of manufacture, but also because it can be used in liquid form.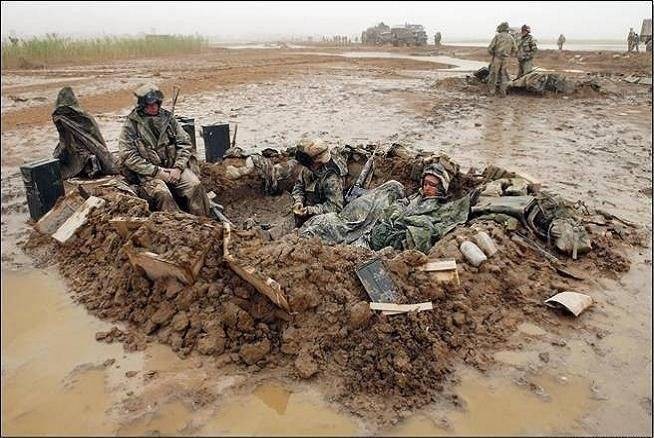 What sprawled? It's time to wash footcloths!
If footcloths can really suffer before washing for a day or two (although on the second day they begin to soak threateningly into folds that can rub a leg badly), then for a sock-shoe army such a washing bag is an absolutely necessary item. Without it, there is a serious risk that such an army in the conditions of war will quickly lose both a sock and a significant part of the fighters who rubbed their feet with dirty and torn socks. An individual washing package - that's probably the most correct way to name it - is a cheap, simple and very important thing to neglect.
And yes, it is worth noting an important thought, more than once already expressed, that soldiers should be taught hygiene in the same way as personal cleaning is taught.
weapon
. This idea is absolutely correct, and you can add to it only that you need to equate neglected hygiene with self-harm, with all the ensuing consequences.