China's first passenger passenger narrow-body aircraft, the 919, will be delivered to the customer by 2021, reports
TASS
Statement by the Deputy General Director and Chief Designer of China Commercial Corporation
aviation
(COMAC) Guanghui.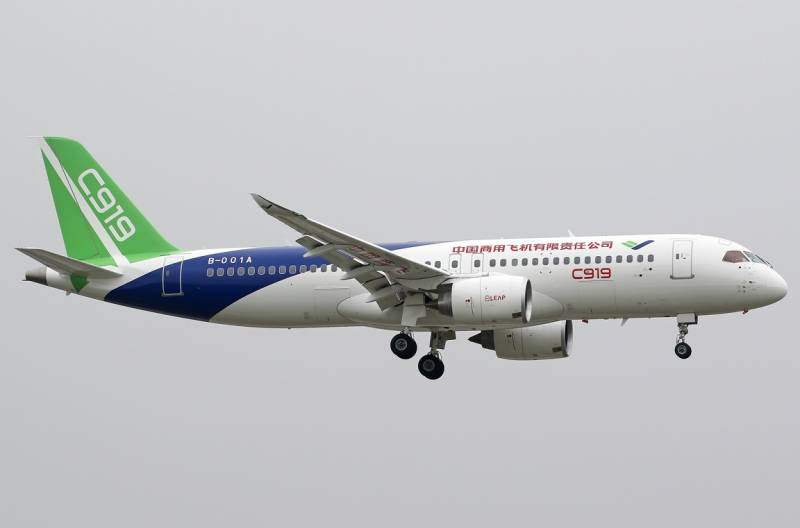 The design and testing of the aircraft to obtain a license will last about another three to four years. The first finished aircraft will be transferred to China Eastern Airlines by 2021,
said guanghui.
In February, the company announced that "the total order book for С919 increased to 815 aircraft, among the customers - 28 of Chinese and foreign companies."
The development of the C919 airliner corporation has been dealing with 2008 of the year. The first prototype was released in the 2015 year. In May, the 2017-th aircraft first flew into the Shanghai Pudong International Airport.
Currently, two samples are already undergoing flight tests for obtaining a license for commercial operation.
"The C919 can be produced in several versions with different numbers of seats (from 158 to 190). The average flight distance will be about 4075 km, the maximum - 5000 km. He can fly at altitudes up to 12,1 thousand meters, "said the manufacturers.
According to them, at this stage, the aircraft is equipped with the "LEAP-1C propulsion system of CFM International, a joint venture of the American General Electric and the French Safran". The same engines are on some aircraft Boeing and Airbus.
Earlier, COMAC announced plans in the future to equip C919 engines of its own production. According to experts, the liner will be on a par with Boeing 737 and A320.
The Chinese leadership hopes that C919 will help reduce the country's dependence on foreign manufacturers.