Over five thousand civilians left Eastern Guta through Sunday morning through the humanitarian corridor created in the village of Hammuria, reports
RIA News
the message of the representative of the Center for reconciliation of the warring parties (TsPVS) Vladimir Zolotukhin.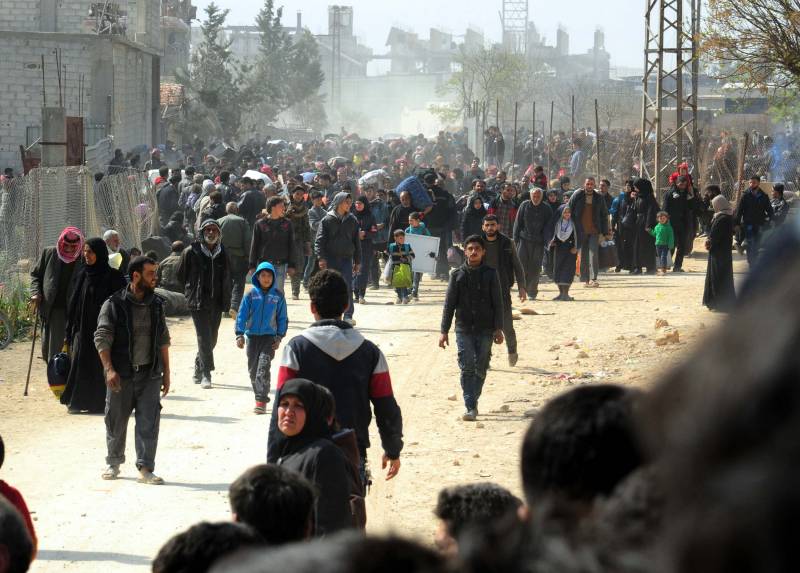 The humanitarian corridor in Eastern Gute continues to work, since the beginning of the day more than five thousand people have already left,
Zolotukhin told reporters.
According to the head of the Center, General Yury Yevtushenko, all refugees arriving in Damascus will receive food packages and basic necessities.
Specialists of TsPVS delivered to Damascus more than 30 tons of humanitarian aid for civilians of Eastern Guta who left the area. In the humanitarian aid blankets, mattresses, bedding and food sets. They will be distributed to reception points and handed over to civilians on Sunday,
he said.
Recall that in February 27, in the area of ​​Eastern Guta, the Russian military, at the direction of the president, introduced a daily humanitarian pause and opened several humanitarian corridors. Meanwhile, the armed forces in Eastern Ghouta continue shelling Damascus. In the affected area are both suburbs and central areas of the city.