Ukrainian police does not allow Russians to vote in diplomatic missions in Kiev, Odessa and Lviv, where polling stations are open, reports
RIA News
.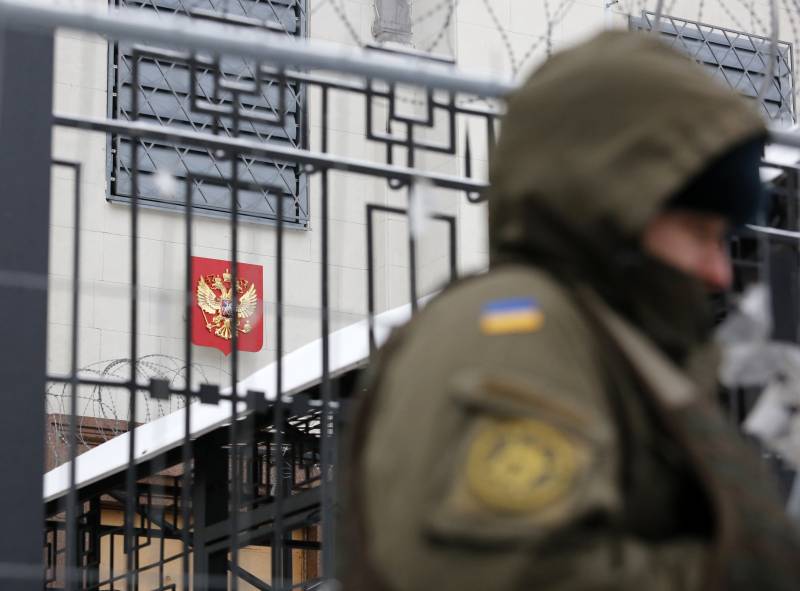 The entrance to the embassy in Kiev is fenced with a metal fence, around which the police and the National Guard under are on duty in the cordon.
As reported by the police, the embassy "can only pass Russians with a diplomatic passport, journalists can enter the territory in front of the embassy behind a metal fence, presenting an editorial ID and passing an inspection of personal belongings."
Due to the actions of law enforcement officers, the traffic was blocked along Vozduflotsky Avenue opposite the diplomatic mission.
In the same way, the entrance to the consulate building in Odessa is blocked.
The Ministry of Internal Affairs of Ukraine reported that such a decision was made due to the fact that the Russian authorities are holding presidential elections in Crimea, which remains Ukrainian, but "temporarily occupied territory".
Gagarinskoe Plateau Street, where the consulate is located, is blocked for traffic. At the beginning and end of the street are roadblocks, at each of them several dozen policemen.
A similar picture in Lviv.
We miss only those who work in the consulate, and only on the list that we have. Don't let anyone else down,
reported one of the police at the mission building.
In addition to the police, a picket of representatives of the nationalist movement National Corps is located next to the building. The activists set up a tent and lined up the barrels, which, they said, would be needed in order to arrange a "corridor of shame" for those who still try to go to the consulate for voting.
The Russian Foreign Ministry called the decision of Kiev unprecedented and said that it "contradicts international human rights standards, in particular the provisions of the Convention on the Protection of Human Rights and Fundamental Freedoms 1950, and does not fit into the generally accepted ideas about civilized countries. The OSCE sent an appeal to the Ukrainian authorities, calling for the observance of the rights of Russians in the voting.