In Transcaucasia, they actively comment on the visit of the head of the Nagorno-Karabakh Republic Bako Sahakian to the United States. During his visit, Sahakyan held a number of meetings, including a meeting with Executive Director of the Armenian Assembly of America, Brian Arduni. In addition, Sahakyan attended the US Congress, which, for obvious reasons, caused a wave of indignation in Baku.
Azerbaijani media cites the comment of the Deputy Chairman of the Parliament of the Republic, Bahar Muradova, regarding the reception of Sahakian in the US Congress (quote
Aze.az
):
We see the US attitude to other countries on this issue. However, with regard to Azerbaijan, we see the exact opposite. In the world there is practically no policy that is based on the principles of international law. Expressing unequivocally on this issue is difficult, since contradictions in the foreign policy of the largest states do not allow expressing a concrete opinion. That is, now we do not specifically know about the unequivocal attitude of a large state, which is the co-chair of the OSCE Minsk Group, and specifically the United States, towards separatism and the territorial integrity of countries. I don't think that there they would not know about the separatist regime created in the occupied territories of Azerbaijan. The United States cannot but understand that the invitation of the head of the illegal regime in the United States, his participation in various events and receptions, the appeals made by him do not comply with the mandate of the OSCE Minsk Group and contradict the norms of international law. By this they question their position in Azerbaijan, undermine confidence in the efforts being made to solve the problem.
Bako Sahakyan himself highly appreciated the American interest in the situation in Transcaucasia and thanked the Armenian Assembly of America for organizing meetings with the American congressmen.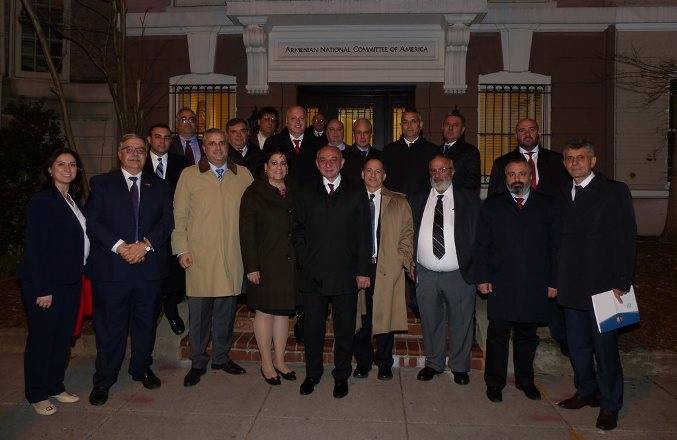 Earlier, journalists asked Maria Zakharova to comment on the visit of Bako Sahakyan to Washington, DC. The official representative of the Ministry of Foreign Affairs of the Russian Federation answered that it was better for journalists to address this question to the American side. At the same time, Maria Zakharova noted that this visit is probably part of a great diplomatic work.
Azerbaijan states that the outcome of Saakyan's visit to the United States may be a new aggravation of the conflict.