General Micro Systems manufactures small embedded devices, hardened smart displays, server racks and other computer systems, taking part in a number of large programs.
The battlefield becomes digital, ground troops increasingly rely on computers carried by soldiers or built into vehicles. These systems must withstand extreme conditions and at the same time integrate the best design solutions from the civil world.
Computers built into vehicles are used for a wide variety of tasks, from situational awareness to data collection and observation, from communications to tracking their strengths. Many of these systems, mounted in standard racks, operate independently of the user, solving tasks in various ways; Often they do not resemble computers with a display and a keyboard that we are used to.
Standards
According to Brian Reinhart, Technical Director of Special Projects at the Crystal Group, a supplier of embedded computers and related products for mission-critical applications, there are a number of complex issues associated with embedding computers in vehicles. For example, many of the applications must operate in conditions that do not allow the use of traditional cooling technology, which means that "we must create a system that will survive at elevated temperatures without the help of fans." In addition, computers often need to be placed in places that do not fit into the dimensions of a standard EIA-310 server rack (482,6 mm), which has become a familiar element of the world of commercial computers. This means that companies such as Crystal must create systems of a certain size or "form factor" that could work in a limited volume. "They must be shaped to fit into any volume available on the platform, be it a wing or a vehicle engine compartment." They can be placed on the floor of the car or near the fuel tank. "
In addition, "some onboard systems need to operate at lower incoming voltages than usual," he explained, "in order to meet the requirements of MIL-STD-1275, one of the US Department of Defense's military standards standards, which define design and construction similar systems. " This means that companies must develop power supplies in order to meet these standards. If there is no appropriate ready-made commercial technology that could be adapted to operate in adverse conditions, then "we develop and deploy our own and integrate it into the tasks we need."
The computer today plays a significant role in the work of most ground-based machines, said General Micro Systems, the chief technologist at the American company, which manufactures small-sized embedded products, enhanced smart displays, server racks and other computer systems and participates in a number of large programs, for example, supplies its products for armored vehicles. Family Stryker American Army. As an example, he cited systems that allow the operator, looking at monitors, to control the car in total darkness in real time. "These computers are mounted in small sturdy blocks."
"This technology, along with some others, has been booming in recent years," said David Yedinak, chief technology officer at Curtiss-Wright, which supplies embedded computers for ground-based machines, as well as hardened displays. He drew attention to the growing trend of "distributed data processing", when computers are increasingly becoming networked, rather than operating as separate systems. Programs such as the British GVA (Generic Vehicle Architecture - common (standard) architecture for vehicles) or the American equivalent of Victory, strengthen this trend and, as a result, will lead to a "reduction in size, weight, power consumption and cost due to the distribution of data" . Yedinak pointed to a number of other development paths, especially noting the progress in data processing technology. In general, one of the most serious problems in the military sphere faced by such companies as Curtiss-Wright is the problem of modernization: it is necessary to build in new computer technologies, understanding that they will work side by side with other, older systems which may not be updated yet another decade. "How will you unite these two worlds?"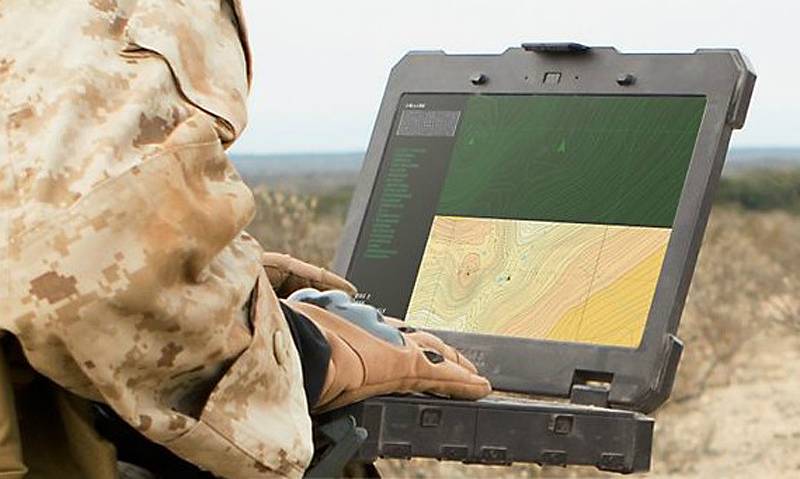 When designing hardened computers, environmental factors should be taken into account, especially with regard to resistance to high temperatures.
Unfavourable conditions
Reinforced computers are designed to work in extreme conditions and therefore must meet a number of stringent standards. In addition to the MIL-STD-1275 standard, the US Department of Defense has in its arsenal also the MIL-STD-810 standard, which defines the requirements for resistance to shock and vibration loads, and MIL-STD-461, which determines the resistance to electromagnetic radiation. "These three standards underlie all the tests, although there are also many special tests that are carried out when needed," said Mike Southworth, project manager for small-form-hardened computers at Curtiss-Wright. As for small-form embedded computers, he believes that, due to the growing demand for autonomy, military training will increasingly use machine learning and other forms of artificial intelligence in military computers. He predicts the emergence of embedded computers with "significantly stronger intelligence", with greater power to collect data. Robust and reliable design is also an integral feature of the displays used to present images and information to the crew of the machine. Argon has several similar displays in its portfolio, and recently completed testing of three new products, which it plans to launch into mass production soon.
Curtiss-Wright offers a line of embedded computers, for example, this new DuraDBH-6 72 Digital Beachhead system
Reinhart said he expects to see higher levels of security on computers, especially since they are becoming part of a wider network. "As network bandwidth increases, it's necessary to increase its security." He also drew attention to the widespread use of solid-state drives or flash drives (Solid State Drive, SSD). Unlike conventional hard drives, there are no moving parts in them, which makes them less vulnerable to damage caused by strong impact, such as falling. Initially, the cost of SSD was higher, however, prices in recent years have decreased significantly, while the drives themselves have become less, and their capacity has increased. "This is of great importance for applications such as bath collection and storage," he added. SSD is also an integral element of hardened laptops and tablets, which are currently the main tool of a dismounted soldier, and can also be integrated into vehicles. Many of the major manufacturers of personal computers are engaged in development and for military structures. For example, Dell offers a range of hardened Latitude Rugged computers of various shapes and sizes. "In the last five to ten years, the industry has made significant progress with SSD technology," said Umang Patel, director of Dell Rugged, noting that SSDs are reliable in terms of resistance to environmental conditions and have excellent performance, "I can install more in less this means less power consumption and faster application launch. "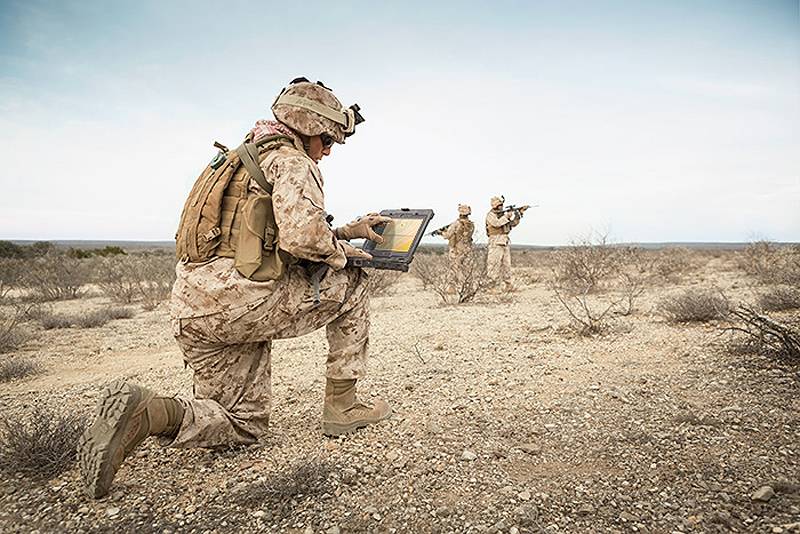 Soldier with a Dell Rugged Latitude 7204 laptop. This American company offers a number of hardened computers of various shapes and sizes that make up the Latitude Rugged family.
There are also a number of areas that should be considered in the production of hardened computer devices. Patel pointed to the eternal problems associated with temperature; when installing a fan to cool the computer system, a source of pollution and mechanical moving parts appear, on which this system relies on its work. Manufacturers of hardened computers, therefore, should consider other ways of cooling the system, including passive systems, as well as more powerful fans designed for harsh environments. "I have to cool the system, but I have to protect it from dust, water, and other harmful factors. I have to provide this very long period of time with greater reliability. " According to Jackson White, director of Getac, a company that manufactures hardened tablets, laptops and other systems, before considering any device for military use, you need to find out if it meets certain standards. "Data protection is undoubtedly at the forefront, but reliability and resiliency are also necessary in order to withstand adverse or even extreme environmental conditions, plus compatibility with other necessary technologies used by personnel. There are other factors, including cost, ease of use, suitability for intended use and, finally, durability. "
White believes that hardened devices must withstand not only falls, shocks, vibrations, exposure to water and chemicals, but also such extreme scenarios, such as the desert with its scorching temperatures. He said that his company's products comply with IP67 (International Protection Marking) or higher; this means that "they are tested for compliance with military standards and are able to withstand falls and temperatures that are determined by the military customer." He noted a number of other aspects of technology related to military users. For example, dismounted soldiers often need to wear protective clothing, including gloves, so touch screens must be sensitive to them. In addition, the screen should be clearly visible in different lighting conditions or be conscientious with night vision goggles. White noted several areas in which technology has developed in recent years. For example, in recent years, many innovations have been introduced in civilian devices, breakthrough solutions have been implemented, and therefore "the military wants the industry to use all of this more boldly in the systems being developed for them in order to achieve better interaction and increase efficiency in a combat situation."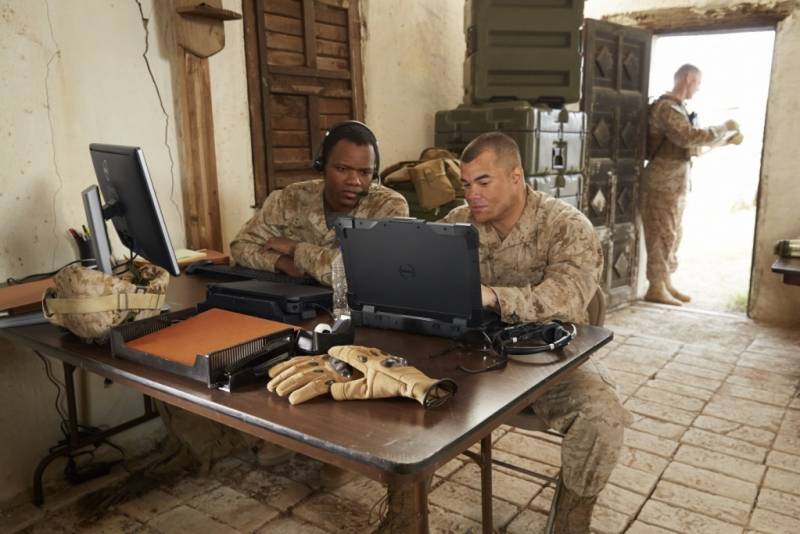 Dell Latitude 7214 Laptop. The company places particular emphasis on a number of promising technologies, including SSD flash drives, characterized by increased reliability
Battery technology
Meanwhile, batteries are becoming more powerful, working from eight to ten hours, while also increasing communication capabilities and, according to White, "having different frequencies and connection methods at their disposal, personnel can access and enter data faster higher level of security. " There is a certain progress in the technology of touch screens, and the use of composite plastic allows "to significantly reduce the thickness and weight of devices while maintaining the strength characteristics."
John Tucker, head of the European division of the company Panasonic, noted that they use different materials, for example, magnesium alloys, to manufacture their line of hardened Toughbook laptops and laptops. They are 20 times stronger than ABS plastic (ABS, Acrylonitrile Butadiene Styrene - acrylonitrile butadiene styrene), but relatively lightweight. In addition, there are materials designed to reduce shock loads. Among them, he called the elastomeric polymer, which, for example, absorbs most of the impact when it falls. Manufacturers also pay great attention to the internal elements of their systems. For example, they actively use gold-plated connectors in order to avoid rust caused by high humidity, as well as a number of other problems. "Even if you use your systems at low and high temperatures, high humidity, rain and snow, you should not have the slightest corrosion."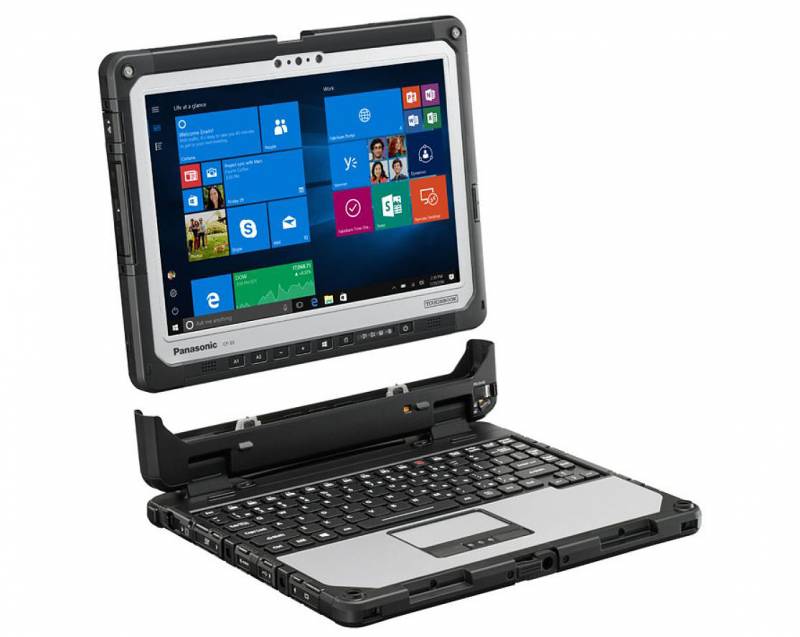 Panasonic Hybrid CF-33 Mk1 Toughbook Laptop
A spokesman for Xplore, a manufacturer of hardened tablets, said that combat conditions determine the need for reliability and resistance to temperature, rain and dust. He also called the range of tasks that the military tablet should solve. "He has to do almost everything that can be imagined, for example, road haulage, logistics and construction." In recent years, military customers are looking for more functional devices of a smaller size. Looking forward, "they integrate tablets and other wearable computing devices into a comprehensive communication and information super-system." In this regard, Tucker pointed to the emergence of the concept of "connected soldier" and the fact that Panasonic is working in this area with several European military structures. In fact, this will allow commanders to have comprehensive information about the combat zone, up to the health status of each soldier. This may give rise to an increase in demand for wearable and even voice-activated technology.
One of the main directions of development of military computer systems is the use of modern commercial technologies, of course, while maintaining the reliability necessary on the battlefield. For example, the convenience of operating smartphones, laptops and tablets that a soldier could use in his civil life is important. Tucker said that there is something like an interchange between the military and civilian spheres, although at present, in many cases, technology is flowing into the defense sector. "It is important to take popular technologies in the civilian sphere and make them suitable for military tasks. However, this process should be extremely meaningful. It would seem to take the USB connector (Universal Serial Bus). What is special about it? But the military needs reliable dust- and waterproof USB connectors. "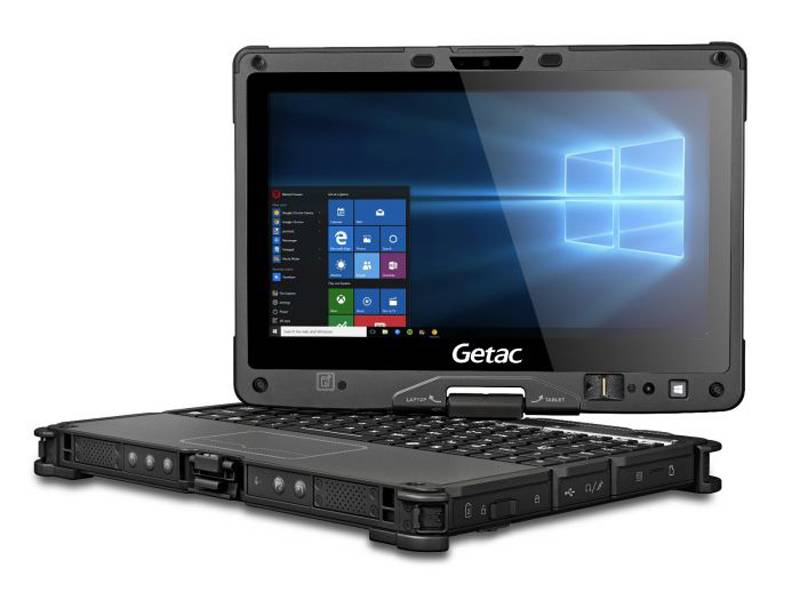 The thinnest and lightest fully protected transformer notebook Getac V110 is quickly transformed into a tablet by a quick turn of the hinge. With two fully charged V110 batteries, the 13 can work autonomously at full load.
In addition to the cost
Getac integrates the convenience and functionality of commercial systems into all of its hardened mobile devices. White noted that "this is one of the main requirements of military customers when choosing their suppliers." He said that a balance is necessary because the devices for the civilian sphere "will inevitably be insufficiently reliable and durable to meet the requirements of dismounted soldiers or to withstand the conditions in which they must work." On the other hand, some specific devices with a large margin of safety may be too heavy and cumbersome. "In order to truly comply with military (command and control functions) operational tasks and technical re-equipment objectives, defense purchases should be aimed at acquiring new ready-made commercial hardware and software and even applications of the" Internet of Things "(the possibility of establishing communication between electronic devices without computers ). The new generation of ready-made commercial devices with increased reliability will be able to provide the right balance, as they are lightweight, powerful, convenient to operate, and also meet strict standards of security and data transmission. "
On the materials of the sites:
www.nationaldefensemagazine.org
www.gms4sbc.com
www.crystalgroup.com
curtisswright.com
www.dell.com
en.getac.com
www.panasonic.com
pinterest.com
www.wikipedia.org