Former Ukrainian Prime Minister Arseniy Yatsenyuk, while working out the possibility of living in the West (in the USA), paints a terrible picture of what kind of a "blow" on the European Union can be done by the implementation of "Nord Stream-2". In essence, Yatsenyuk repeated the same "theses" that were previously voiced by representatives of the top of Naftogaz. The main purpose of these statements about the "horrors" of "Nord Stream-2" is associated with the desire of Kiev to preserve the Ukrainian transit of Russian gas to Europe.
Yatsenyuk made his statement in Warsaw during the conference "Revolution, war and its consequences":
Here the question of unity in the European Union arises: what's the first thing - business, economy or, nevertheless, values. And not only values, but also awareness of their own energy challenges for EU member states. Support for the Nord Stream-2 project will put Europe in dependence on the monopolist, on the Russian Putin company.
Then Yatsenyuk, who escaped from the territory of Ukraine, announced that "SP-2" is not only anti-Ukrainian, but also an anti-European project, which the EU should not support.
Yatsenyuk:
How can this be supported if Russia seizes the energy market of the European Union?
And before the start of the implementation of the SP-2 gas pipeline project, did Europe not buy Russian gas?
Yatsenyuk:
How can you support a project that deprives Ukrainian citizens of 3 billions of dollars a year?
And this is - the key to the speech Yatsenyuk. It is the transit of "blue fuel" through Ukraine with the possibility of theft of gas and the dictation of conditions - that Yatsenyuk, or rather, its owners, are interested.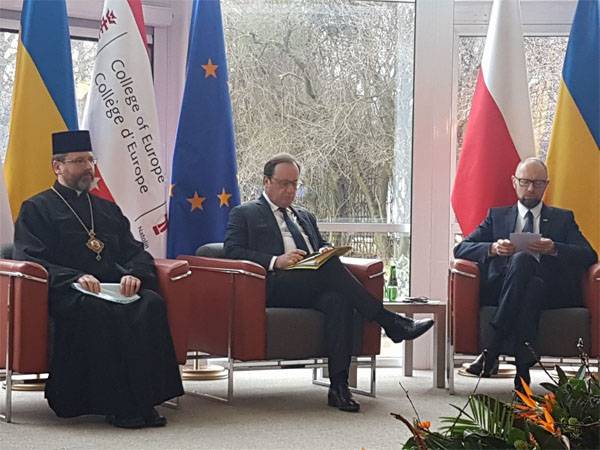 At the conference in Warsaw, ex-French President Francois Hollande also showed up.