In fighting in Yemen, a variety of sniper
weapon
. There you can see the rifles of the Second World War and modern models. Recently, the network has a picture of the Russian OSV-96 "Burglar". He writes about it
Rossiyskaya Gazeta
.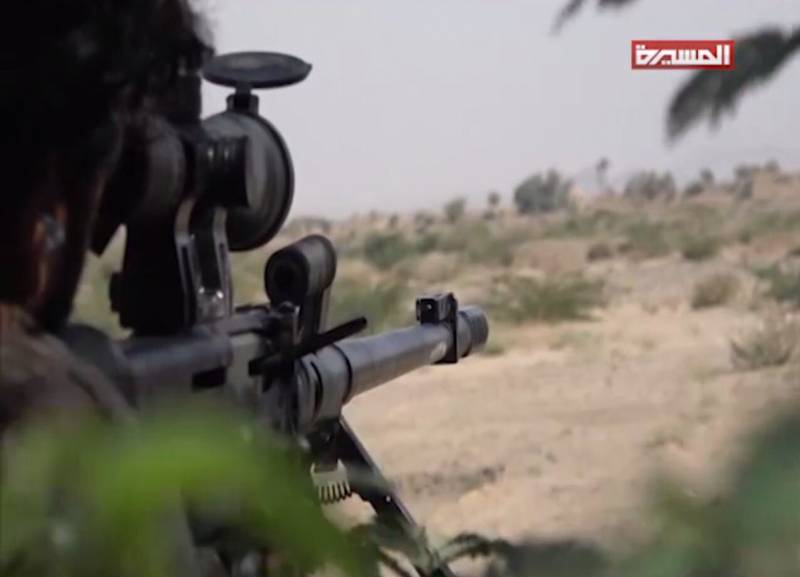 "Most of the sniper weapons of the Hussites, fighters of the Shiite Ansar Allah movement, came from the warehouses of units of government forces. As is known, many units of the regular army and representatives of power structures have gone over to the side of the rebels. In the former government arsenals, the latest 12,7-mm OSV-96 "Burglar" was also captured, "the article says.
According to the author, before the war, various samples of Russian small arms were supplied to the country, which has a very good reputation here. In addition to the "Burglar" special forces units received machine guns RPK-203, "Pecheneg" and "Kord".
As the newspaper notes, "large-caliber long-range rifles are best suited for combat operations in Yemen's conditions: a comfortably positioned and well-disguised sniper can cause great problems to the entire infantry unit of the enemy".
Hussites organized in their workshops the production of several models of large-caliber weapons. Among them are samples of calibers 12,7 mm, 14,5 mm, as well as the "gun" options in 23 and even 30 mm, which are capable of hitting targets at a distance of 4-5 km.
As for OSV-96, the development of Tula designers feels confidently not only in individual hot spots, but also in international markets, where it has to compete with the most advanced foreign models.