Afghan Ambassador to Russia Abdul Qayum Kochai said that due to the current situation in the country and the world, Moscow "could" provide Kabul with free military-technical assistance. According to Kochai, Afghanistan needs Russian helicopters of various modifications.
RIA News
cites the statement of the Afghan ambassador:
Military-technical cooperation between Afghanistan and Russia has a long and long
history
. The Afghan armed forces and in our time for the most part are equipped with weapons and equipment of Russian (Soviet) production. At one time, we acquired helicopters of the Mi-17 and Mi-35 modifications from Russia. Some of these helicopters are in working condition, some need major repairs and (or) extending the life of the aircraft.
The ambassador added that against the background of the country's interest in acquiring Russian helicopters from Kabul there are no funds for such purchases. At the same time, Kochai immediately announced that the Americans do not allocate funds to Kabul for the purchase of military equipment from Russia in connection with the economic sanctions previously imposed on Russian defense companies.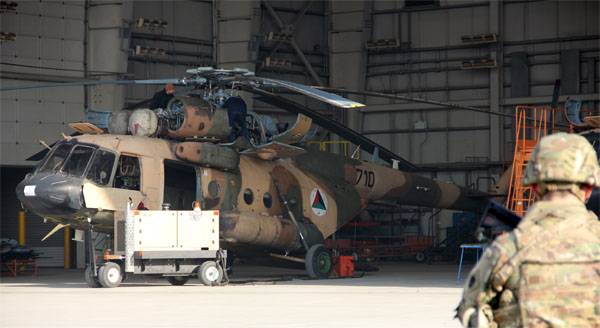 From the statement of the ambassador:
Americans, for reasons known to you, refuse to allocate appropriate funds, as they did before ... However, I consider it appropriate to remind that Americans will supply Black Hawk helicopters on a free-of-charge basis to the armed forces. I believe that the Russian side could do the same, transferring to the Afghan side helicopters of the Mi-35 type, free of charge, so necessary for the Afghan army to conduct counter-terrorist operations. Such a gesture of goodwill by the Russian authorities in the framework of conducting a joint struggle against the common enemy, that is, international terrorism, will undoubtedly be appreciated both by the public of the two countries and by the international community.
Well, if the United States supplies Afghanistan with Black Hawk helicopters "absolutely free", then let them put Kabul and helicopters of other modifications. If we have already imposed sanctions, it means that they can provide the Afghan army with military equipment on their own. And how will Russia act in the fight against international terrorism, Moscow itself will decide, without prompters from abroad.